PepsiCo's Naked Juice Teaches Londoners about the "Good Stuff" Inside the Bottle
PepsiCo's brand Naked Juice Smoothies is kicking off its biggest integrated campaign of 2012 in the UK with a sampling tour in London, games and Facebook activities.
The 'Grab Some Good Stuff' campaign is aimed at 24 to 35 year-old Londoners to trial Naked Juice Smoothies.
The sampling activity, aimed at increasing awareness and trial of the brand, will take place outside high footfall areas in central London including Tube stations Bank, Canary Wharf, Green Park and Liverpool Street. The activity has spread across four weeks from 25 June during the morning commute. Brand ambassadors will hand out over 120,000 bottles of Naked Juice along with branded competition postcards and leaflets to drive consumers onto the Naked Juice UK page on Facebook.
Here, fans who 'Like' the page will be offered the chance to play the "Naked Good Stuff Machines" game. The arcade inspired game lets fans direct a grabber to 'Grab Some Good Stuff', which is virtual fruit with a guaranteed prize at the end of every game. It reflects the extra good stuff that Naked Juice Smoothies has thrown in over and above its competition. Naked Juice UK fans can play the game once a day, every day for 40 days.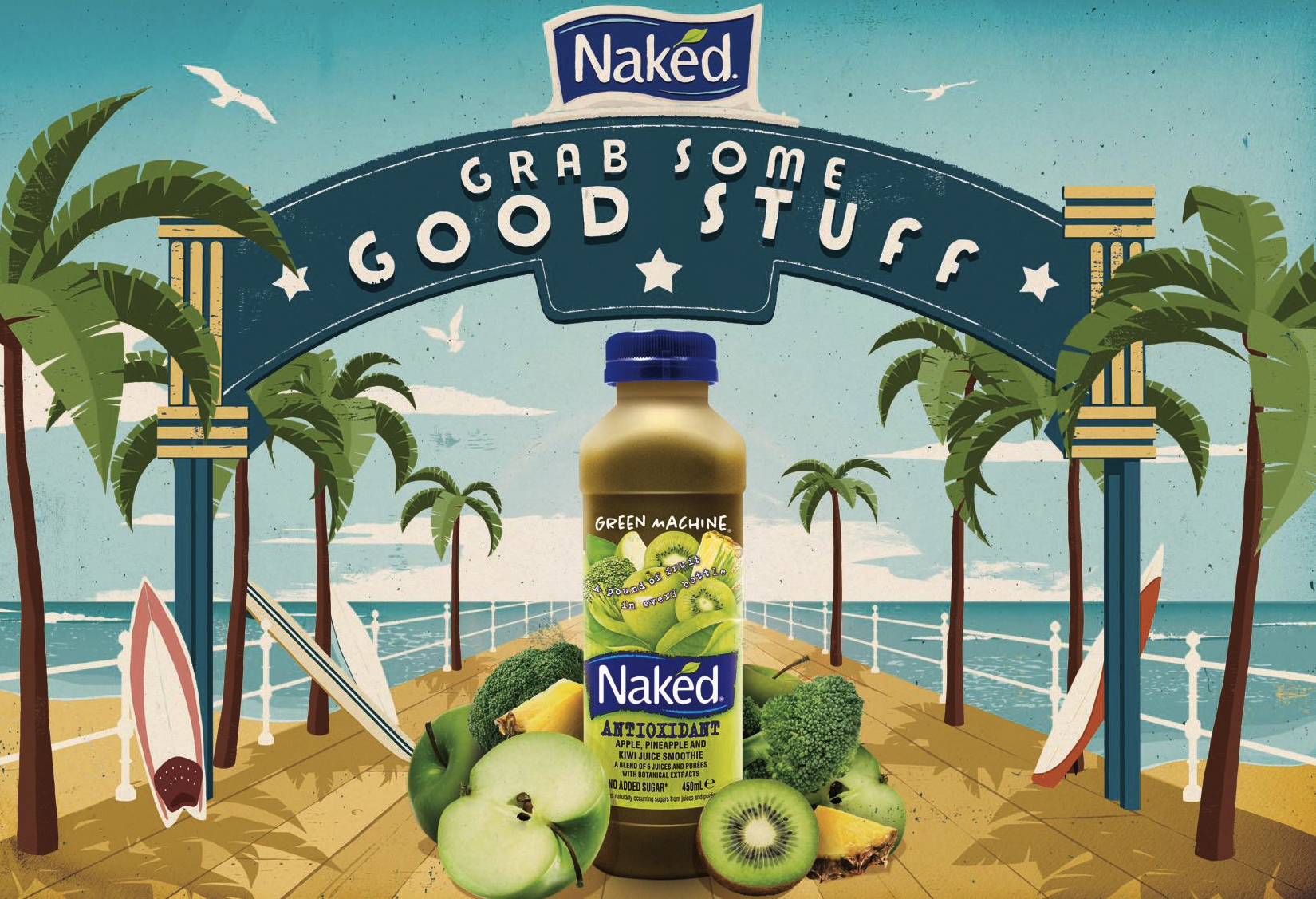 Photo: Naked Juice's promotional postcard
For those with a competition postcard, there is the opportunity to play for a second time in the same day by entering a unique code contained on the card and a third chance to play by sharing with friends on Facebook. Guaranteed prizes to be won include £1 off and free coupons for Naked Juice Smoothies, redeemable in Sainsbury's, plus free retail vouchers between the values of £25 and £120 which are redeemable online. Fans are guaranteed a prize every time they pick up a bit of virtual fruit.
Every time consumers play the Naked Good Stuff Machine game they are automatically entered into two additional prize draws. The first includes one lucky fan the chance to win a VIP trip to Santa Monica for two, while the second gives entrants the chance to win an office drop-off of 50 bottles of Naked Juice and branded beach balls.
INITIALS Marketing is responsible for the development of the overall campaign concept and delivery of experiential activity.