Heinz, which is aimed to plant up to 57,000 trees through its 'Join the Growing Movement' U.S. campaign, has introduced Spotify's 'play' button technology on its UK Facebook page, enabling Heinz Tomato Ketchup Facebook fans to listen to a song playlist.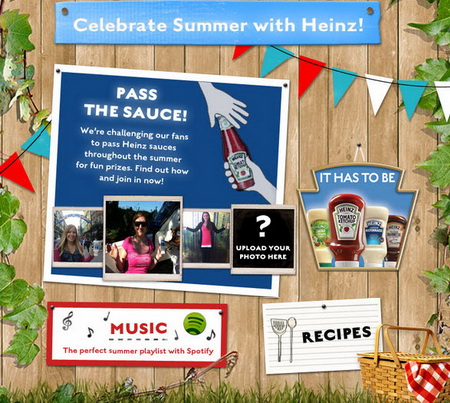 Photo: Heinz Facebook page, a snapshot
Heinz is the first brand to use the recently developed Spotify button on Facebook. The button is designed for brands to use it on their websites and other networks. The new initiative is a part of Heinz Summer Sauces campaign.
Using the button, 1 million Heinz fans can create and share an 'Ultimate Summer' playlist by selecting their favorite summer songs based around a specific theme such as 'the perfect song for a barbecue with friends' and 'a song relating to your favorite festival memory,' says The Food and Drink Innovation Network.
Users can choose from a list of 110 songs and vote for five songs they would like to keep every week over a four week period. Finally, a Summer playlist featuring the top 40 songs will be created by Heinz. The fans playlists will be visible for their friends.
In addition, the Heinz Tomato Ketchup and Heinz Salad Cream Facebook pages will offer users a variety of summer recipes and a 'Pass The Sauce' competition.
"Heinz has a strong association with summer, with our sauces offering the perfect accompaniment to barbeques and other social eating occasions. We wanted to create a campaign that consumers would enjoy sharing with their family and friends during these moments", said Sarah Davies, Brand Manager, Heinz Tomato Ketchup. "Creating and sharing the ultimate summer playlist is another great way our Facebook fans can celebrate their summer with Heinz.'