For the first time ever, Hugo Boss has signed established Hong Kong actor Chow Yun-Fat to be its brand ambassador in Asia for its luxury menswear brand Boss Selection.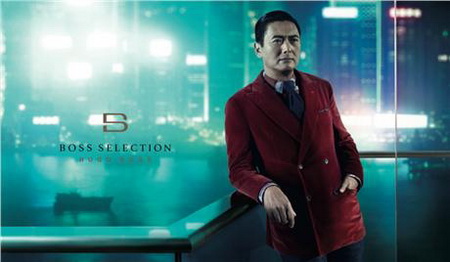 Photo: Chow Yun-Fat in the Hugo Boss ad, from www.campaignasia.com
Chow is known globally for his roles in such movies as Anna and the King, Crouching Tiger, Hidden Dragon and A Better Tomorrow. According to a Hugo Boss spokesperson, "Chow's appointment reflects the growing importance of Greater China and the Asian market to the brand," says Campaign Asia.
Chow features in an advertising campaign showcasing both formal and casual apparel from the Boss Selection Autumn/Winter 2012 collection, which is the high-end men's collection designed to meet the demands of middle-aged solvent consumers. The actor is captured on a hotel rooftop in the Tsim Sha Tsui district, with skyscrapers of Central on the background.
Chow will appear in Hugo Boss ads, created by Hugo Boss' German crew in Europe, during 2012 and 2013. MPG is the media agency partner for the brand in China. The print and OOH campaign will also roll out this August.
Gerrit Ruetzel, president and CEO of Hugo Boss Asia-Pacific remarked, "we are most honored to have Chow Yun-Fat as the first Asian testimonial in the history of Hugo Boss. He possesses not only immaculate style and class, but also the confidence and charisma of a man of distinction. He is the true embodiment of the spirit of the brand."
A spokesperson for Hugo Boss Hong Kong commented that Chow's importance of the Asian market for luxury brands is growing and that's why there is now growing competition amongst many international brands for Asian celebrities, sports stars and artists to be signed up as brand ambassadors.