McDonald's Offers Nutritional Information When USA Wins Gold
To motivate fans during the upcoming Olympics, McDonald's USA has launched the 'Favorites Under 400 Calories' platform which offers popular fast food and beverages with nutrition information. Some of these choices are used in a new Olympics-related promotion called 'Win When USA Wins Gold.'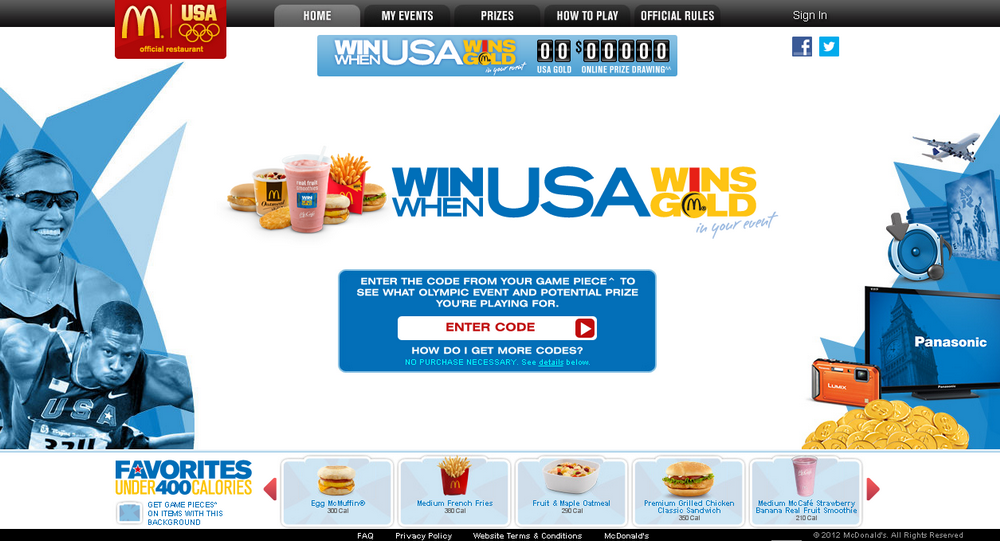 Photo: McDonald's www.usawinsgold.com, a snapshot, clickable
McDonald's, the official restaurant of the Games, says that almost "80 percent of national menu choices are under 400 calories for the standard recipe.1" and people should know it. The company's research showed that only one in seven Americans accurately estimates the number of calories they consume. The 'Favorites Under 400 Calories' platform gives fast food fans information on nutrition and calories the McDonald's products have.
"McDonald's is bringing greater awareness to calories starting with some of customers' favorite menu items for under 400 calories," said Cindy Goody, McDonald's USA senior director of nutrition. "With Favorites Under 400 Calories, we hope to help customers understand how their choices fit within their daily recommended calorie needs, particularly with portion sizing and eating in moderation."
Starting today, visitors to the 'Favorites Under 400 Calories' can take part in the 'Win When USA Wins Gold' promotion. Select products from the menu contain a game piece and customers can peel and win prizes which include free McDonald's menu items. All these items have a code that customers can enter at www.USAWinsGold.com and win prizes like $25,000 in gold, a trip to London and Panasonic VIERA HDTVs.
The fast food chain has been providing nutrition information for more than 35 years. The company also offers consumers to use the online tool My Meal Builder to match food and beverage choices and view nutrition and ingredient information on the products they love.