Nissan FlashForward Promotion Offers an Insight into the Future
Nissan Australia invites consumers to see what their life might be life if they bought a new Nissan car. The brand has launched a lovely online promotion dubbed 'FlashForward', which focuses on a consumer, not a car—first, the brand helps, determine which model suits you the best, and only after that tells how it can make your life brighter.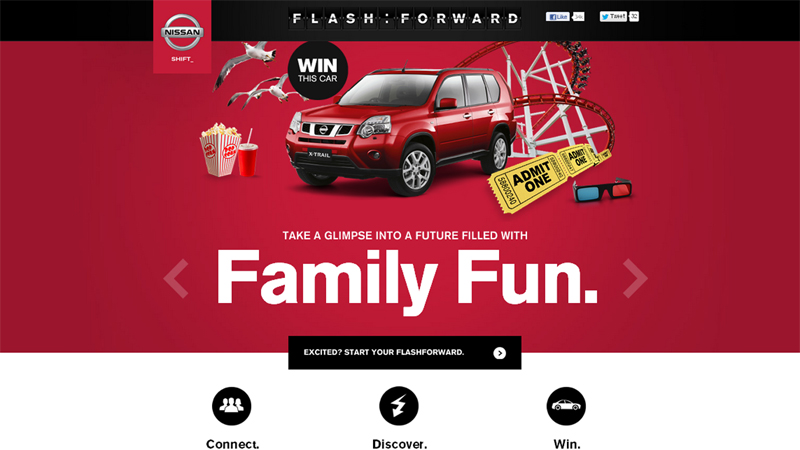 Photo: The loading page of the Nissan FlashForward website, www.flashforward.nissan.com.au
Visitors to the new online destination are invited to take a short test of several basic questions such as 'Would you rather live under the covers or under stars?' and 'Are your weekends spent out and about or on the couch?' and so on. This information is needed to choose the model from the Nissan range that suits the user's lifestyle and personality best and create a picture of his or her life for the next 12 month, based on the consumer's preferences. In the narration, Nissan highlights the role of its car in each aspect of life, ranging from eating habits to travelling.
Users can log in using Facebook Connect or enter their name and the names of three friends on the dedicated page. Nissan not only offers an insight into how the user's life may change over the next 12 months thanks to a suggested Nissan car, but also provides an opportunity to win it. The competition is running through September 12, 2012.
The brand, which makes green and smart innovation one of its top priorities, has also launched a hilarious 'What If' spot which syncs with the 'FlashForward' campaign. "The Nissan brand aspires to provide customers with innovative ideas for the joy of everyday driving. We express our aspiration to make daily life vital and energetic by adding spice or edge, and by delivering innovative ideas to our customers," says the brand in the description to the video below.