Revlon Expression Experiment Offers Women to Get Inspired by Colors
Revlon is rolled out a new digital initiative today. Called The Revlon Expression Experiment it will engage consumers in several series beauty initiatives which are designed to inspire and encourage women.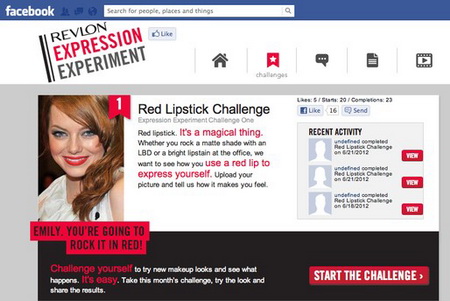 Photo: Revlon Facebook app, a snapshot
An app on Facebook will offer participants a monthly beauty task that when completed can be shared with online friends. The challenges include a colorful eye for August, a daring nail for September, vintage glamour for October, a foundation-matching challenge for November and a holiday-appropriate sparkle-and-shimmer task for December, says WWD. Revlon's global artistic director, Gucci Westman will provide participants with tutorials and they will be able to use Revlon's shade finder at revlon.com.
"We are reigniting the heritage of the Revlon brand," commented the company's executive vice president and global chief marketing officer, Julia Goldin. "It's about getting an idea of what a red lip feels like, it's not just about product. The world has changed but our point of view hasn't."
The initiative is supported by bloggers who were supplied with Revlon product and by NYU film students who were asked to create videos, sharing their thoughts on their new looks. According to Goldin, Revlon wants to "get women to tell their story" and use a "long-term platform, continuing and evolving over time."

The project is also kicking off in South Africa, Australia, China and India, and each country will have its own culturally tailored Facebook page. Halle Berry will be featured in the introductory video and more brand ambassadors including Emma Stone and Olivia Wilde are expected to participate in the project.