Tide honors Team USA with help of a special flag that was unveiled yesterday, on July 3 in New York City's Bryant Park. The initiative that unites personal stories of success of many Americans is called 'My Story. Our Flag.'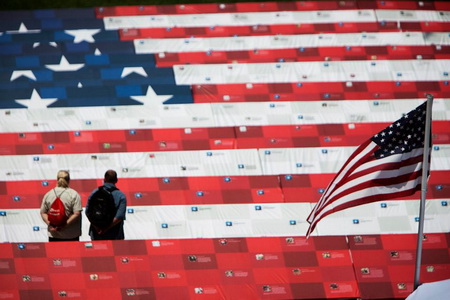 Photo: Tide flag, from Tide Facebook page
Tide was asking Americans to share what the red, white and blue mean to them on Facebook and Twitter for the past several weeks. Nearly 1,500 stories are represented on a swatch of fabric, and each piece of the flag's fabric has been washed in Tide prior to being sewn together. The flag measures 117 feet by 52 feet. During the flag presentation, the swatch of fabric were displayed featured the contributor's photo, name, city, state and a brief description of their story.
Additionally, Tide has partnered with three Olympic athletes and actress and singer, Katharine McPhee who told their own inspiring stories.
Lopez Lomong, a distance runner, told his story of a 'Lost Boy of Sudan' who came to America and became the American Flag bearer for the Beijing 2008 Olympic Games. Henry Cejudo, who was born to Mexican parents, had to wrestle to protect himself and it helped him to become the youngest American wrestler to win an Olympic Gold medal. Sarah Hammer, a cyclist, was so inspired during the 2004 Athens Games, that she wanted to make a comeback after watching her teammates and competitors race. Finally, she entered the 2008 Olympic team. Katharine McPhee wanted to sing and dance since she was a child and she made her dream come true.
Throughout the London 2012 Olympic Games, people will be able to inspire TeamUSA with their story by submitting it via the app labeled 'Join Our Flag' on Tide's Facebook page or by tweeting their story using the hashtag #TideFlag.
Other P&G's brands also run their own Olympics campaigns. Always invites women to 'Pass the Baton', and Febreze and Ambi Pur have teamed up with the Azerbaijani national wrestling team to celebrate good aromas in a new campaign.