Benetton Launches Pin Up Denim: Jeans Tailored to Your Own Look
Jeans, which were once considered a work wear for labourers, have now transcended into an everyday piece of wardrobe and have become a great canvas for a range of designers. Now, jeans can highlight the best in your body and even help hide some shape defects thanks to cutting-edge technologies. In 2010, Levi's introduced its Curve ID system, which offered shapes based on a women's shape, not size, and this year Benetton reveals its own contribution to the family of shape-fitting jeans. The Italian clothing brand unveiled the Benetton Pin Up Denim line, in which two techniques were used, one for lifting and the other for shaping a woman's body.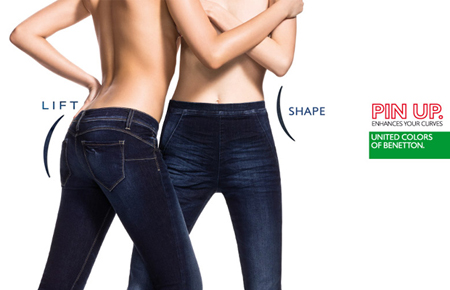 Photo: Benetton Pin Up Denim line, www.benetton.com/woman
Female consumers are invited to choose the jeans from the new line to make their look just perfect thanks to the Pin Up Shape or Pin Up Lift Denim technologies. The new collection is available in multiple sizes and washes will enable ladies to sculpture and celebrate their body shapes, highlighting its most tempting parts in the fashion forward retro way.
The first of them, Pin Up Shape, makes a woman look thinner thanks to a stretch fabric technical panel inside the jeans, which flattens and lifts the belly in a comfort and natural way. The high waist draws attention to the flattened thighs, making the legs look longer. "The secret slenderizing panel in the front of the jean and the side zip closure is what makes the magic happen, and the high waist is sophisticated and trend-right," writes Benetton in the press note.
The other one, Pin Up Lift with a low waist, "a cosmetic jean," works with the back and lifts the bottom, enhances the curves in all the right places, accentuating skinny legs."The intricately designed, heart-shaped back yoke, engineered darts with thin stitching and perfectly proportioned back pockets are the secrets to the success of the lifting technique," says the brand in the press release.
The Pin Up collection was launched last year with a knitted sweater, designed to enhance the curves of the body. The new jeans are already available to purchase—the price for a pair starts from £37.