New Balance UK Celebrates Sport, Craft and British Heritage at London Experience Center
This month New Balance is launching the inspirational art project in collaboration with prominent British artists and talented design students — the London Experience Center.
Just in a few days creative breed have transformed the 28th floor of the Millbank Tower, the highest skyscraper on the river Thames, into an ultimately lit open arty loft steeped in New Balance's rich British heritage and showcasing the pieces of art, craft and design inspired by the brand.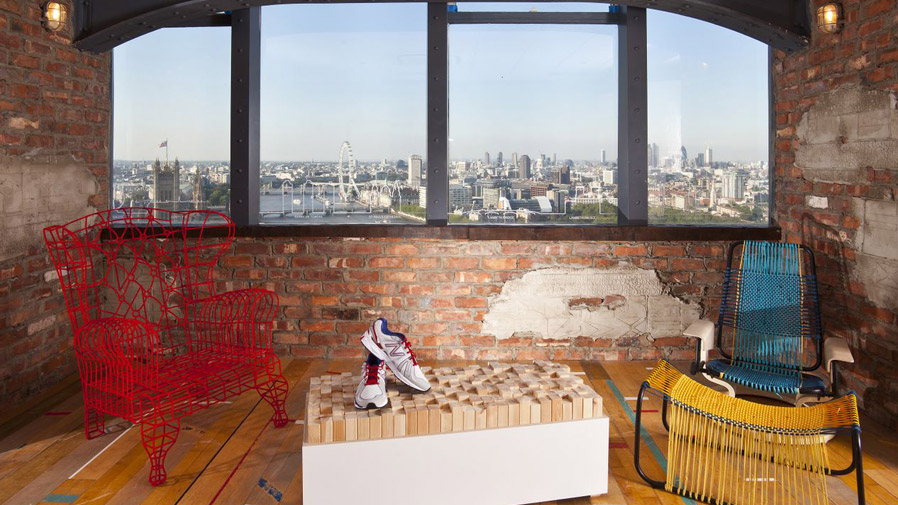 Photo: converted to London Experience Center loft on the 28th floor of the Millbank Tower
Reclaimed wood from a 40-year old Scottish gymnasium was used for the floors to inject a local look and feel into the newly transformed loft space. Bricks from center-old mills adorn the walls to give the Experience Center a traditional yet modern feel, with a nod to England's proud history of manufacturing.
The space showcases exclusive furniture created by 10 groups of the Kingstone University students along with pieces of craft by 7 British designers and artisans. Here you can find quirky sofas and chairs made from very unexpected (rather recycled) materials, diamond-light lamps by Joss Barton, prints, illustrations and fashionable items Simon Cheadle, Jessica Light and Katherine May and others.
Photo: the chair designed by the third team: FRANK
Photo: Team's 4 collaborative project
Photo: Team's 5 'Connected' Chairs
The venue is free to attend.