Unilever Makes Its Facebook Cover Photo Interactive to Encourage Users to Live Sustainably
In an effort to expand the idea of living more sustainably, Unilever has changed its Facebook Timeline cover photo and made it interactive.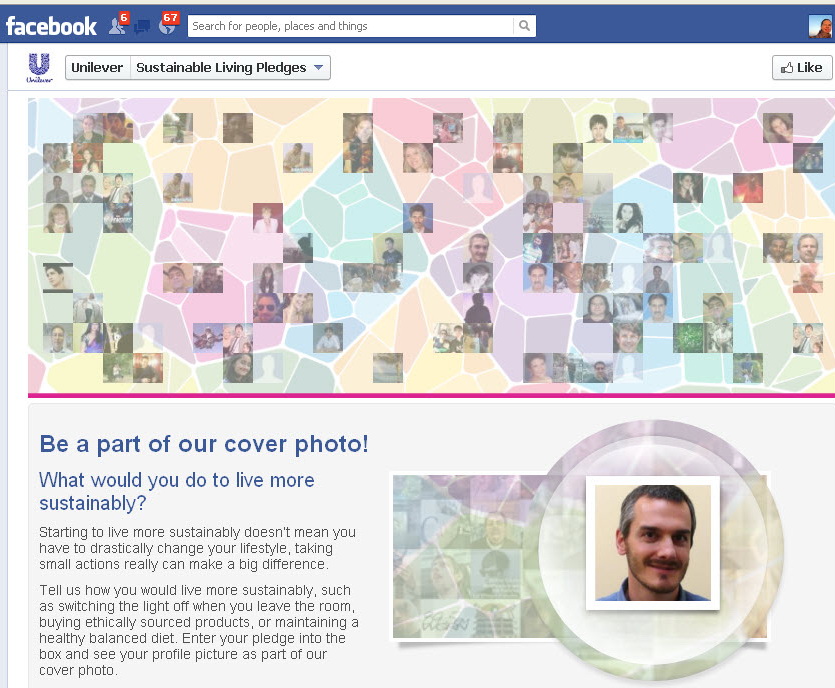 Photo: Unilever Facebook page, clickable
More than 1 million fans are invited to share their own pledges on how they plan to live with ecology in mind. "Users can hover over individual photos in the mosaic to see unique tips, suggestions and promises for leading a sustainable way of life", says Unileve's blog. 'Featured fans' will be chosen every week.
The cover photo now consists of faces of different people creating a mosaic. Users telling the most interesting story of sustainability will take centre stage on the profile.
The stories can be of any kind. It's important to start with something small, states the company. Just regularly switching the light off when you leave the room can help. Maintaining a healthy balanced diet is also important for sustainability.
Unilever says that its community of fans has grown due to people who are sharing their ideas every day through the brand's quizzes, videos, tips, news and apps.
"Through creating engaging content we can not only continue to grow our fan base, but also demonstrate how small actions can make a big difference to consumer's daily lives. If you have a sustainable living story to tell please do let us know!" said Paul Nevett, VP, Marketing, Unilever Brand.
In June, the company launched on Facebook another sustainability project, the Waterworks.