Bombay Sapphire has released a new limited edition gift packs designed by Webb deVlam which had developed five previous pack design for Bombay Sapphire Global Travel Retail. The innovative Electro Global Travel Retail pack sparkles with lights when you pick it up due to electroluminescent ink.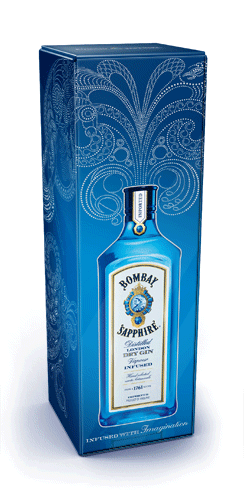 Photo: Electro Global Travel Retail pack, from www.designweek.co.uk
The new 'Infused With Imagination' Electro package was developed in collaboration with German packaging manufacturer Karl Knauer, while the illustration, which has featured on all products of the 'Imagination' campaign was made by Yehrin Tong in 2011.
Electroluminescent ink is conducted from the battery on the base of the pack which uses a hidden mechanical switch to activate it, says Packaging Europe. The package is illuminated sequentially from bottom to top when it's picked up. Each cycle of animation is 18 seconds long. Then it should be activated again.
"Webb deVlam continue to exceed our expectations and delight our customers with their use of innovative packaging technology that directly conveys Bombay Sapphire's brand message. In this case the packaging is the message, it is literally Infused With Imagination," said Richard Cuthbert, Senior Brand Manager, Bacardi Global Travel Retail.