PayPal is promoting its instant pay services in its first-ever campaign starring actor Jeff Goldblum. The e-commerce company released a series of 30-second videos, which are revolving around the benefits of using PayPal when purchasing all kinds of goods, saving their time and money, both online and in actual stores. The vignettes will be available through the end of the year on Hulu, AOL and Yahoo, as well as on eBay's pages.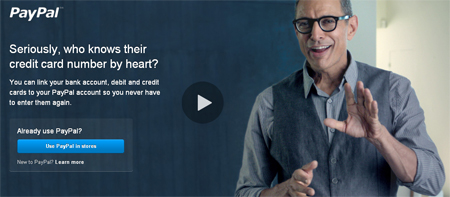 Photo: A snapshot from the www.paypal-promo.com/onewaytopay website
In the four minimalistic videos, Goldblum is sharing his experience of using PayPal with the audience and his attitude towards a simple, quick and safe way to pay, thus adding a personal touch to the campaign. The promotion highlights the idea that with PayPal, you spend less time on buying stuff, since you don't have to enter personal information each time you purchase goods, and you don't have to remember your credit card's number, codes, and date of expiration to buy a scarf or a chair.
PayPal positions itself as a proven partner of a modern person, not just as a paying service. Now, PayPal is expanding its business by partnering with offline retailers to enable consumers to shop in their favourite brick-and-mortar stores. In the USA, the company has already partnered with a bunch of national brands including Abercrombie & Fitch, Home Depot and Foot Locker. On the dedicated webpage, the company explains how to use its services in "Pay however you want," "Pay simpler," "Pay safer" and "Pay anywhere" sections.
"PayPal is expanding our core product to solve problems for consumers, merchants, developers and advertisers—not just trying to re-create a wallet that we already invented 14 years ago," wrote Anuj Nayar, PayPal's senior director of global communications, in his blogpost titled "PayPal is not a mobile wallet company."