PepsiCo Introduces an Interactive Vending Machine
In an attempt to engage consumers, brands have been experimenting with vending machines for the last couple of years. For example,  Kenco Millicano installed a talking vending machine in London this August. Now PepsiCo offers Americans to experience vending in a new way. The company has introduced its Pepsi Interactive Vending machine pilot program which lets consumers in select U.S. locations to buy beverages, gift them and play games.
The machines equipped with full touch-screen technology are located at five General Growth Properties' malls: Columbiana Centre (Columbia, S.C.), Clackamas Town Center (Happy Valley, Ore.), Oglethorpe Mall (Savannah, Ga.), Oakwood Mall (Eau Claire, Wis.) and Park City Center (Lancaster, Pa.).
The video explains how to interact with the vending machine and buy one of the PepsiCo beverages—Pepsi, Mountain Dew, Sierra Mist Natural, Aquafina or Lipton Green Tea. People can also gift a bottle to a friend by entering the recipient's name and email along with a message. The receiver gets a code which can be entered at any Pepsi Interactive Vending machine. After they have purchased a beverage, consumers can play a game for a chance to win a free 20-ounce bottled beverage.
The Interactive Vending machine provides people with nutritional information for all the beverages and TV commercials and other video promotions of these products. The useful function of the machines is a possibility to charge mobile devices by plugging into built-in AC power outlets and USB ports.
"Pepsi's Interactive Vending machine is the next generation of the Social Vending prototype launched last year and is part of a broader global platform of equipment innovation we're developing to engage consumers," said Mikel Durham, Global Growth officer, PepsiCo Foodservice.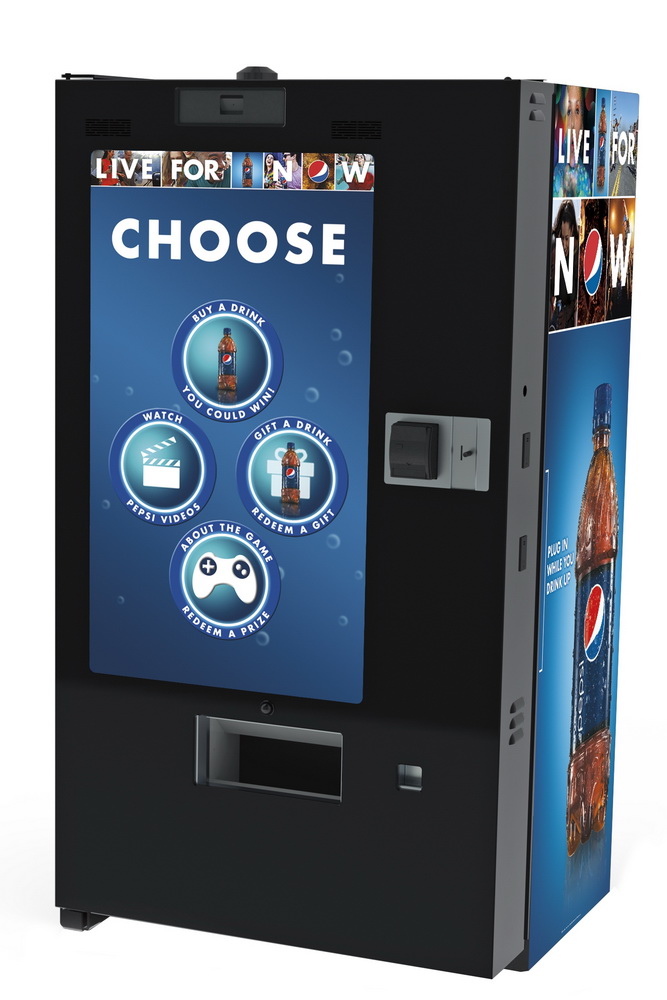 Photo: Pepsi's Interactive Vending machine, clickable