evian Launches a Bottle by Diane von Furstenberg, Turns Tweets into Music
The water brand evian, which has collaborated with a number of recognized designers for its artistic bottles line founded in 2008, now has teamed up with Diane von Furstenberg to create a new limited-edition bottle. The new product is joyful and optimistic, and its playful nature is reflected by the "Water is Life is Love is Life is Water is…" message, featured on the bottle. The new edition merges Diane's personal optimistic philosophy and evian's commitment to ultimate purity.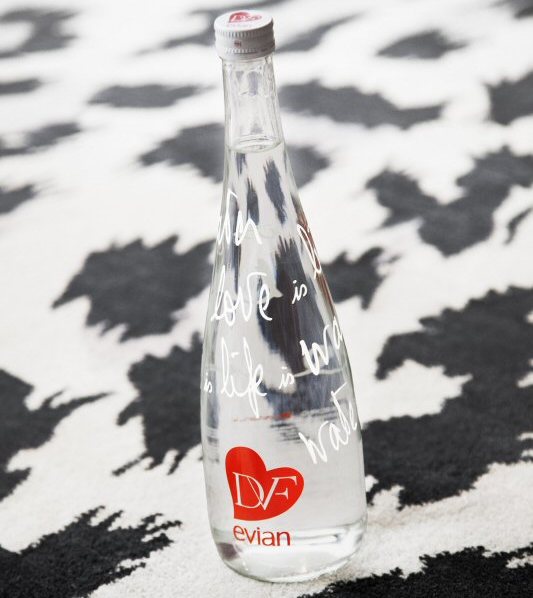 Photo: Diane von Furstenberg and evian bottle, click to enlarge
The DVF limited edition bottle is transparent and features the above-mentioned mantra in the designer's very recognizable handwriting in organic ink all over the bottle and the iconic heart DVF logo. According to the press release, the heart was printed "in a special hue of red, created exclusively for the evian collaboration" on a 100%-recyclable bottle with a new screw cap design. This edition joins a family of evian artistic bottles, which includes vibrant designs by Issey Miyake, Paul Smith, Jean Paul Gaultier, Christian Lacroix and Courrèges.
"We are thrilled to launch our 2013 limited edition bottle, designed by the iconic Diane von Furstenberg. Not only is she a globally-recognized pioneer in the fashion industry, but her youthful mindset and inspirational way of life parallel the concepts and values that evian firmly believes in," shared Martin Renaud, President of evian Volvic World.
evian has also released a hilarious "Melotweet" application for iPad and Android, which turns a user's Twitter timeline into a musical piece. In the app, tweets are transformed into drops, which generate different sounds as they hit various objects on the screen. So, by using tweets from your friends and dragging and dropping objects, one can create an original water-inspired melody. Watch the video below to see how the app works.