Tell the Story in Seconds or Be Passed Over
The article is written by Ted Mininni, President of Design Force, Inc., USA
Packaging has to deliver the brand and deliver positive consumer experiences. It can't do that or sell the product unless it tells the brand story. Brands, licensed or not, have equitable assets that must be leveraged. It's important to delve deeply into these properties to uncover both overt and hidden values to deliver the essence of the property. Understanding the visual cues that resonate with consumers on an emotional level leads to compelling and recognizable package design that refers back to the brand.
To accomplish instant brand recognition; to elicit an emotional response and to seal the deal in the scant few seconds consumers are scanning the retail shelf:
Use simple direct messaging that really resonates.
Uncover core messaging that the consumer immediately responds to on an emotional level.
Develop key product points that are direct, simple to assimilate and support the emotional response with rational reasons to make the purchase.
Strive for an ownable, unique package structure, color, and strong visual cues as brand identifiers and differentiators.
Develop a well-planned package design system and support it with a style guide; one-off package designs lead to a lack of brand cohesiveness.
All of these strategies lead to increased visibility and brand recognition. Great packaging refers back to the brand in a convincing manner; making the differences between it and its competitors plain to see in a scant few seconds. Then the visual and brand communication aspects of the package design seal the deal because they deliver the brand experience.
No matter how many new princesses Disney presents to dazzle little girls; no matter how much proprietary and licensed merchandise hits the marketplace, the Princess brand brings out a deep emotional response from its audience. The deep pink signature color is used in "fabric" borders with scrolled flowers, vines and satiny ribbons to reinforce the "Princess" brand. The principal visual design element is a sparkling, scrolled, diamond-studded tiara that appears toward the bottom center of all packaging. Regardless how toys and licensed products fill retail shelves, there is instantaneous recognition of the brand due to its visual cues.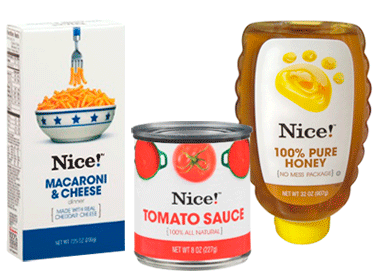 Photo: Nice! packaged food range
Walgreen's decided to phase out a hodgepodge of private label brands so it could deliver one dominant, easy-to-shop store brand. "Nice!", debuted in 2011. A package design system that is clean, contemporary and simple was developed to stand out from every other brand and to accommodate products in any category.
All white packaging and a brand identity in crisp black lettering stands out; especially when surrounded by a plethora of brands packaged in every color and hue on retail shelves. Crisp visuals of the product—often cleverly or whimsically depicted to reinforce the brand—instantaneously tell the consumer what's in the package. Brand communication is simple, direct and delivers few, carefully chosen sales points.
The Nice! package design system is clearly the result of a well-developed style guide. The brand identity appears in the same position from package to package. It remains the same size on most packaging. But the package and environment changes to reflect the product and its function. As a result, color changes and imagery changes are very clear. Even the dot on the Nice! exclamation point changes color to reflect the segment color. This clearly segments the product lines, suggesting that Walgreen's has offerings for consumers in every category.
Disney and Walgreen's are strong brands that engage consumers and deliver positive and consistent experiences. It is apparent that they leverage package design as an important element in the brand continuum. When product and package come together to deliver on the brand promise, magic happens. The consumer either affirms a brand as a first-time user, or reaffirms it in their minds because it continues to deliver an emotionally satisfying experience. When they do that, dozens of other potential brand choices have been passed over.
Ultimately, packaging has to be judged on how it affects consumer purchasing behavior. If packaging isn't a huge asset in selling product and cementing brand loyalty on the retail shelf—if it doesn't convey the brand story—it simply isn't effective, no matter how pretty it is.
About the Author

Ted Mininni is President of Design Force, Inc., a leading package and licensing program design consultancy to the consumer product and entertainment industries. He can be reached at 856-810-2277.