The article is written by Greg Taylor, Director of Brand Provocation at Elmwood, London
You can sense the financial strain from Berlin to Athens, London to Paris, New York to Tokyo. These magnificent cities and their people   with a world that's been turned upside down. With this new world view comes the need for a new methodology. The patrician top-down approach is no longer economically viable. The future rests with harnessing the power of the 'have not, cannot'. To be successful with less, to work with people we wouldn't normally work with, to think the opposite. Doing this will require re-wiring our instincts. In this topsy-turvy world, the winners will be those with counter-intuition.
Lean but not mean
Just because you have less doesn't mean you can't give more. You may have to develop some more entrepreneurial nous but having a purpose behind your passion will get you a long way. Much like designers Jonathan Cedar and Alex Drummond. Here's the problem they tackled: according to the World Health Organisation, 2 million people die a year in poor countries as a result of breathing in harmful smoke and carbon monoxide emissions whilst preparing their daily meals. Jonathan and Alex's ingenious idea, the BioLite Homestove, is a low-cost biomass cooker that, by converting waste heat into electricity, reduces smoke emissions by up to 95%!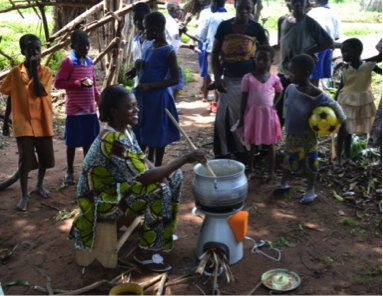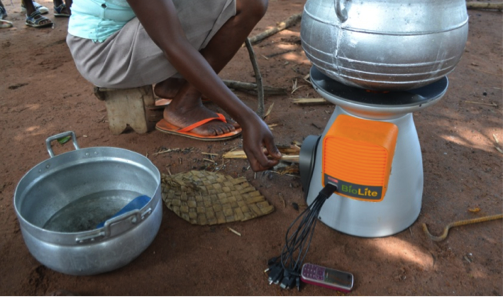 Photo: African women cooking on BioLite Homestove
Now here's the bit about more for less with purpose. Africa is the fastest-growing mobile market in the world. It's expected that there will be more than 735 million subscribers by the end of 2012. The BioLite Homestove includes a charging facility, which should save time and money for the millions of people whose homes are located outside electricity grids and who have to walk long distances and pay hefty fees to charge their mobile phones. So whilst we may think we need great resources to do great things, counter-intuition and the BioLite Homestove mobile phone charger says otherwise.
Keep your enemies closer
Not just because a wise old Chinese warrior says so, but because people want you to. As a Future Poll from The Future Laboratory reports, 91% of people in the UK prefer brands to collaborate rather than fight in public. Working with your competitors can have surprising results for both parties. During these topsy-turvy times, mutuality could be in vogue once more as those nineteenth century pioneers of the co-operative movement originally realised. After all, the clue in is the idea: co-operation. Today words like co-opetition and co-creation are bandied around but they amount to similar things. Being counter-intuitive and working with your competitors can be extremely mutually beneficial.
This is why we see an unexpected yet symbiotic buddying up of the new Tokyo branch of high-end designer store Dover Street Market (DSM) with Uniqlo's Ginza flagship store.
Linked via tunnels, the two stores cover both ends of the fashion spectrum, enabling the appeal of both brands to rub off on each other. This store combo not only attracts cash-strapped aspirational fashionistas but also  a more accessible and inclusive approach to luxury branding.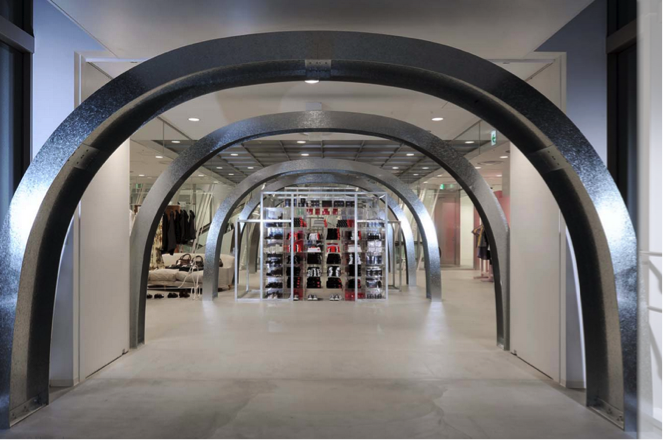 Photo. The store combo: DMS + UNIQLO
And DSM and Uniqlo aren't the only ones. Other clothes brands have got together to do amazing things. Competing brands Johnny Cupcakes and Junk Food Clothing co-created their Tastemakers Truck Tour to promote their collaborative line of apparel. Sold exclusively via an ice cream truck with Junk Food re-interpreting Johnny Cupcake classic tees, these limited-editions arrive in collectable ice cream-inspired packaging. Tasty indeed.
Photos. Johnny Cupcake packaging
Even die-hard enemies like supermarkets are getting together for their and our greater good. In Germany, discount grocery chain Aldi and its upmarket competitor Rewe have opened joint stores where they traded under the same roof. This enabled Aldi and Rewe to economise yet combine their strengths: Aldi provided the deals, Rewe the more premium products.
Opposite attracts
Sometimes being counter-intuitive is as simple as being literally topsy-turvy, doing the opposite of what's expected. Nike, never shy of being contrary, applied such thinking by literally bringing Venice Beach to a standstill to shoot a video for the launch of the new Jordan CP3.VI. Now here's a product all about speed and agility. The typical approach is to show athletes in the throws of a dynamic performance – fast and frenetic. Instead Nike did a live 'frozen', creating a shoot that features dozens of Chris Paul body-doubles (but not the real one), posed as if they are different frames of one continuous play. Nike showed that slow not fast is the way to gain superior traction and cut through! For the full effect check out:
No industry is exempt from doing the opposite, even the oldest in the world!
Porn has been a cornerstone of the internet since its inception, and generates a large amount of money. Two men named Marco and Riccardo want to put some of that money to better use.
Their venture, Come4.org, aims to be a free to use, non-profit porn website with a heart. Users can upload sexually explicit material – both still images and homemade movies – then choose which charity they want their video to support. For Marco and Riccardo, it's not just about making money for good causes but also changing the world of porn – taking it from a seedy and often unpleasant, fake and violent industry to a much more reputable place.
Be Stupid
So whatever world you're in, how can you get a little topsy-turvy? Or as Diesel would say, it's smart to be stupid!
About the Author

Greg Taylor became founding partner in global brand design consultancy Elmwood in 1989. Now Director of Brand Provocation, Greg is the creator and facilitator of Step Change™, Elmwood's strategic tool for moving ideas forward. Clients include ASDA, Wal-Mart, Arla Foods, BBC, COI (Defra and DfT), Cable&Wireless, Comic Relief, Debbie & Andrew's, Durex, Glasgow 2014 Commonwealth Games, McCain, and the Met Office.