Coca-Cola USA Lets Consumers Use Phones to Pay for a Drink from a Vending Machine
Coca-Cola US is piloting vending machines, which accept payments made via a mobile device —the new initiative was launched through the company's partnership with the Isis joint venture created by AT&T Mobility, T-Mobile USA and Verizon Wireless.  The iconic beverages giant is not the first one which provides its consumers with such an opportunity (for instance, Starbucks offered it in 2011), but it is still a great move for the company.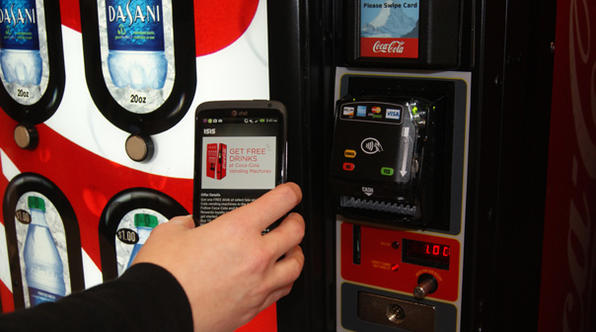 Photo: Coca-Cola's vending machines, which allow to pay with a phone, www.coca-colacompany.com
Coca-Cola is already testing the new service in Austin, Texas (it has installed 200 new machines there). The company says it will launch "tens of thousands of the units nationwide" throughout the year. To be able to buy a can, consumers are invited to download the Isis Mobile Wallet app (a My Coke Rewards membership is already preloaded with 30 points here) and add debit, credit and loyalty cards, coupons, tickets to it. The new app works with the pilot vending machines, equipped with small screens and contactless readers. Coca-Cola celebrates the launch of the new payment system with a generous promotional move—the first and every 10th drink after that goes for free (it also gives usual points for every purchase).
It's not the first mobile payment initiative conducted by Coca-Cola. Now, "a Google Wallet pilot is underway in five major U.S. cities," plus the company is employing message-based payment functionality to enable users in Norway, Sweden, Finland and Great Britain pay for the drinks using their phones. "When we think about the value mobile payment solutions provide for our consumers, it actually isn't really about the payment itself. The advantage is really around the marketing programs mobile enables, including loyalty and couponing, which we can now deliver through the mobile wallet. That's the true magic of mobile … and why we're investing so heavily in it," commented Dan Avenick, director Foodservice and On-Premise Strategy and Development, Coca-Cola Refreshments. "This is a unique opportunity for us to take two steps at once. We're aggressively deploying flexible payment devices across our U.S. vending fleet to accept credit and debit cards and put us in the lead by accepting a number of mobile payment solutions."