Diet Coke and Taylor Swift Unite
Coca-Cola has tapped US pop country singer Taylor Swift as a new celebrity face for Diet Coke. The brand, which last year celebrated its 30th anniversary in the USA, will feature the 23-year old lady in its multi-platform campaign, which is expected to include more than just adverts. According to Ad Age, "executives close to the company noted she will not be involved in the company's Super Bowl campaign." Apparently, it's because the young celebrity, who is gaining her power quite fast in the entertainment business, currently doesn't have the superstar presence of such performers as Beyonce, who has been tapped by Pepsi and will be headlining the Super Bowl halftime show sponsored by the brand.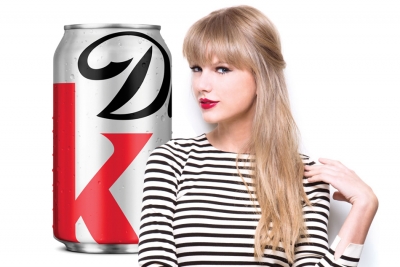 Photo: Diet Coke and Taylor Swift are now together, www.adage.com
Still, the young signer is now making big—both in financial terms and in terms of media coverage. Ms. Swift, who earned over $35 million last year, likes to have short romances with Hollywood hunks and is also known for her weird hobby to write songs based on her past relationships. For her bold and confident nature, Taylor has recently chosen by the Keds footwear brand as the role model, the face of their latest "be brave" campaign targeted at girls—in Diet Coke's campaign she is most likely to show more of her feminine side rather than focusing on the girls' braveness.
Ms. Swift seems to be a loyal fan of the brand—in late 2012, she told Bon Appetit magazine that she always has a can of Coke in her fridge "because it understands me." Taylor has already announced the partnership in a short video on YouTube (it was posted to the official channel of the brand on January 27), noting that their partnership will include a commercial shoot, tour support and more.
According to Ad Age, the new campaign starring Taylor Swift is trusted to Droga5, while Wieden & Kennedy remains Diet Coke's agency of record. So far, the company doesn't say how long it will be working with the first agency on the campaign featuring Ms. Swift, since it's just "a 2013 effort," commented Susan Stribling, a Coca-Cola spokeswoman to Ad Age. "It's not unusual for us to occasionally tap into more than one agency for a big core brand like Diet Coke," she added.
In the UK, Diet Coke has released its new "hunky" commercial announced last week—the latest ad is starring Andrew Cooper as the new Diet Coke Man as a hot gardener, goes below.