In the New Campaign, Honda Proves that "Things Can Always Be Better"
Honda is launching a new advertising campaign dedicated to its all-new 2013 Civic. The promotion, developed by agency RPA, includes four TV hilarious spots, which revolve around ultimate innovation and creative spirit of engineers—the films feature 10 different inventors, who showcase their ground-breaking creations.
The three TVadverts are putting three cars, the Civic Sedan, Si Coupe and Hybrid, into the spotlight, and one of the spot, a 60-second film, features all three of the models. The videos portray stunning inventions, which will possibly improve our everyday life tomorrow. The 1-minute video dubbed "Things Can Always Be Better," which premiered January 1, showcases an array of innovations such as the Brompton folding bike, Honda's ASIMO robot, the laser keyboard, the 4moms origami stroller and more—the brand is merging this footage with corporate video content depicting the 2013 Civic and more Honda products. "Director of Photography, Ellen Kuras ('Eternal Sunshine of the Spotless Mind,' 'Blow'), captured the innovators' genuineness balanced with the beauty of the Civic. Spots are set to the music of Santigold," says the press release.
"Honda has always been a company that embraces its customers and their passions, and this campaign is another great example of it. It's a celebration of the challenging spirit inside all of us. We wanted to not only showcase Honda's latest example of this philosophy, but embrace the other tireless dreamers and doers out there who share our way of thinking. It's like one big, innovative group hug," said Jason Sperling, SVP, group creative director at RPA.
The campaign is developed primarily for the US audience, but the 30-second spots will be also aired in 60 markets during the Grammy Awards show and during a range of sport games.  The campaign also includes prints in a range of magazines including The Magazine, Elle, GQ and People to name a few plus ads on YouTube, Facebook, Twitter, Pinterest and Instagram "to help create buzz and curiosity around the innovations and the new Civic."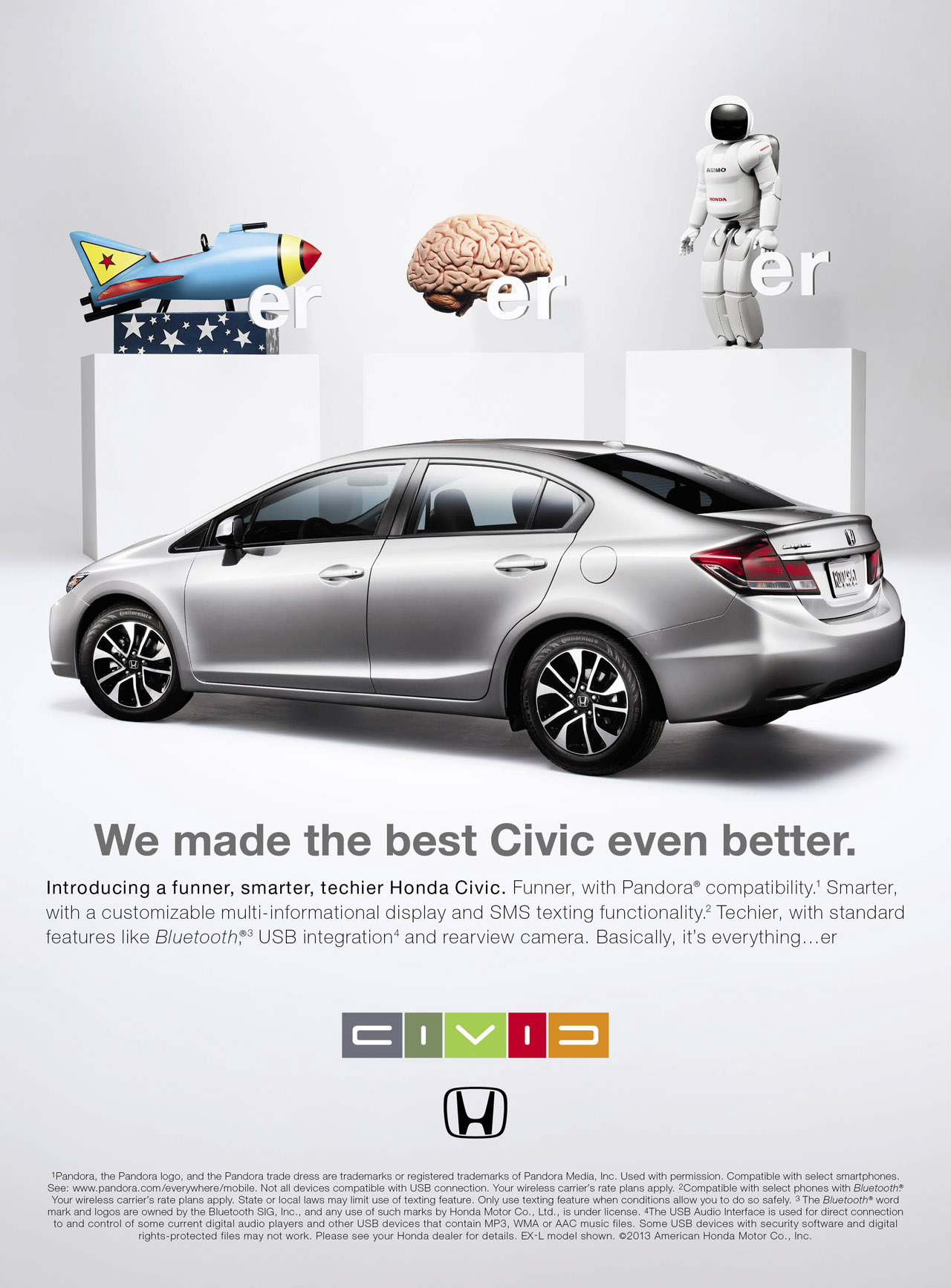 Pic. the new Honda Civic ad print, 2013