MySpace Goes Live with New Design, Concept and Justin Timberlake's Entrepreneurial Ambitions
After seven long months of anticipation and constant checking out the black 'beta' version, today one of the earliest social networking pioneers MySpace has relaunched with a new fresh and sleek design, revised concept and irresistibly handsome co-owner Justin Timberlake in a suit and tie on the landing page of the website, exclusively presenting his new namesake single 'Suit & Tie' from the new album.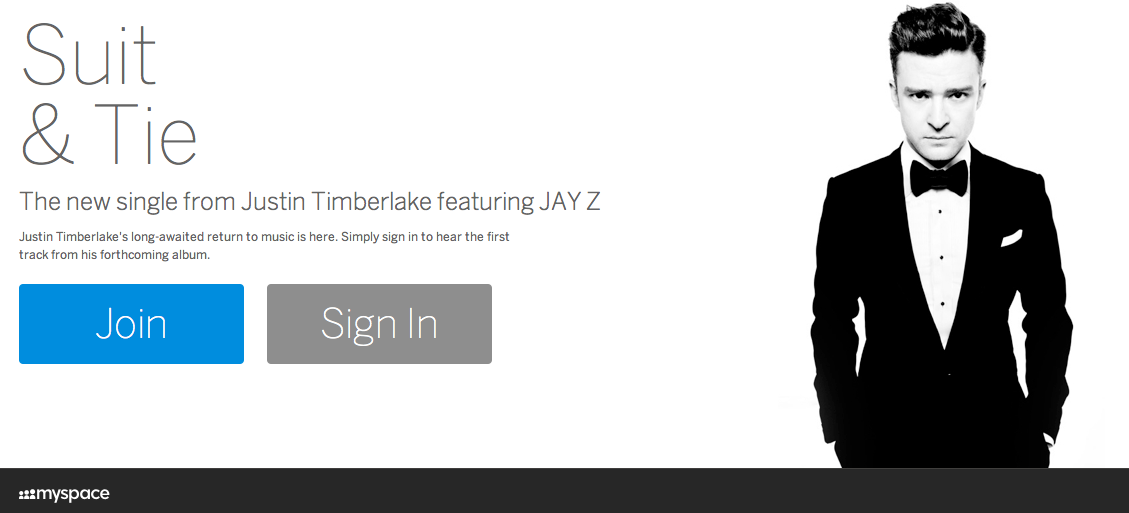 Pic. A screen shot of the landing page of the new Myspace
Available on Myspace for free, it is the first new single after a 7-year break in Justin's musical career. By coinciding the re-launch of the 'Facebook predecessor' and the debut of his new album featuring Jay Z, the singer-turned-entrepreneur, who bought the 'dying' website from News Corp. along with Specific Media Group for $35m in June 2011, emphasizes the whole new MySpace's idea: this is the social network for artists to promote their music on the one hand, and for music fans to listen it for free and use in non-commercial purposes or buy from iTunes the songs or albums they like.
Interestingly, new MySpace seems to not compete with other social networking mammoths, as users may log in using their old account or via their existing Facebook or Twitter. Given Timberlake's charisma and entrepreneurial gut, sound investment and people's natural interest in music, new MySpace has a chance of attracting those who are bored with a way too commercial Facebook, text-based Twitter or image-based Pinterest in favour of something simple, clean and relaxing. Hopefully, in 2013 you'll have more friends than just Tom.