Polaroid Launches Fotobar Stores: Print a Photo from Your Phone on the Go
Polaroid is opening up new opportunities for creative individuals, who love taking photos and want to turn them into true pieces of art. The photo brand announced it is launching a series of experimental retail stores, Polaroid Fotobars, where consumers will be able to quickly and easily create visual masterpieces from the digital pictures they take with their photo cameras, smartphones, etc.
Polaroid notes that the branded stores will be "the first of their kind retail destinations designed to capitalize on the meteoric rise in people taking pictures" (each day, around 1.5 billion photo shots are taken, so the concept stores are sure to have a big future).
The first Polaroid Fotobar location will be opened in Delray Beach, Florida in February 2013— this year, the brand is planning to open at least 10 experimental venues in New York, Las Vegas and Boston to name but a few.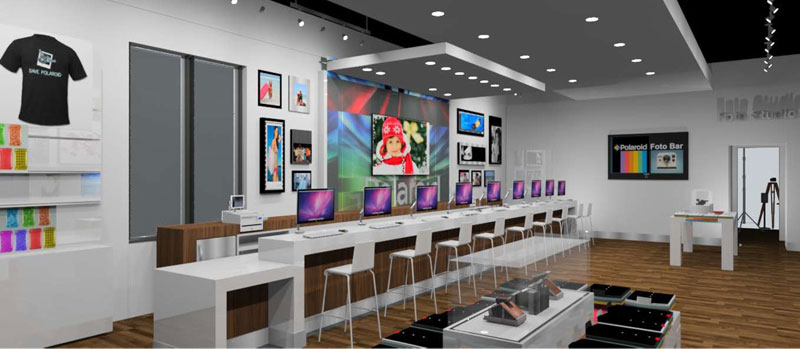 Photo: Polaroid Fotobar Store, www.polaroidfotobar.com (click to enlarge)
Visitors to these "bars" will be able to create high-quality visual pieces from their digital shots, using an array of photo-effect technologies and choosing from a big selection of framing materials ("all of which are handcrafted and shipped worldwide to the consumer in just a few days"). The pictures from the consumer's camera (or popular social platforms including Facebook, Instagram and Picasa among others) get wirelessly transmitted to one of the store's bar-top workstations, where they can be visually enhanced and edited.
Photo: Polaroid Fotobar Store, www.polaroidfotobar.com (click to enlarge)
Polaroid notes that it will exhibit some digital photos turned into printed art at the stores—they will be on display at each of Polaroid Fotobars to provide consumers with an opportunity to make sure that ordinary digital pictures on their phones and tablets can be turned into a true photo masterpiece with just a couple of quick touches. At the Fotobars, consumers will be also able to get support from "passionate photo enthusiasts," who will work as photo consultants and "help guide customers through the process from start to finish." Plus, the Delray Beach location visitors will be able to host private parties as well as attend photo classes and a studio location for portrait photos at "The Studio" multi-purpose room.
A Polaroid Fotobar store, which will be first unveiled at 2013 Consumer Electronics Association (CES) trade show (January 8 to 11, Las Vegas), is designed to become "a recreational and entertainment destination in addition to a place to shop," says Polaroid.