Selfridges Goes Silent with Its Post-Holiday "No Noise" Shopping Experience
After the holiday frenzy, silence is the one of most wanted things. Today, January 7, the Selfridges retail chain is launching the "No Noise" shopping experience, which will be running through the end of February. The idea behind the initiative is simple—to give shoppers an opportunity to choose the products in the comfortable stress-free environment, free of unwanted talk, messages, advertising and simple noises (for maximum effect, shoppers are asked to leave their shoes, phones and other hi-tech things that create noise ).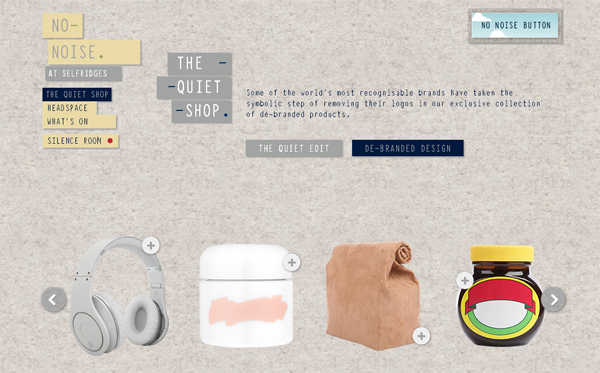 Pic.: Some of the products with the de-branded design, sold at Selfridges,  nonoise.selfridges.com
"As we become increasingly bombarded with information and stimulation, the world is becoming a noisier place. In an initiative that goes beyond retail, we invite you to celebrate the power of quiet, see the beauty in function and find calm among the crowds," says the company on the page of the initiative. The online destinations provides a quick look at the project and invites public to attend the famous performance of John Cage's 4'33 seconds (the silent piece) slated for February 23.
Selfridges offers several ways to experience quiet shopping. As part of the initiative inspired by minimalism, the retailer asked some globally recognized brands, including Beats by Dre, Heinz, Marmite and Crème de la Mer, to provide limited series of their products without any logos, so-called "de-branded" edition. Some brands have also created "The Quiet Edit" clothing and apparel items. To celebrate simple things, Selfridges is also launching the Food for Thought "uncomplicated, organic and raw ingredients" and is hosting nutrition clinics and sampling organic and bio-dynamic wines.
At Selfridges, they have re-opened the Silence Room (originally created in 1909, Harry Gordon Selfridge), which was redesigned by architect Alex Cochrane. The special space is "an insulated inner-sanctum, shielded from the noise and human traffic of the store." In case shoppers need to calm their busy heads, they can find Headspace Pods, which will provide them with different mediations. They can also attend a series of talks presented by the Idler Academy.