Obama resumes work for a second term. Spielberg's patriotic film Lincoln is riding high in the nominations. And American Airlines are re-launching with a new identity for the first time in forty-five years. 
Obama is pushing on, one down, one to go. His inauguration talks of a new era of liberalism, of hope and action. Likewise, in the movie, Lincoln talks of union, abolishing slavery; that 'the fate of human dignity is in our hands'. Even American Airlines' tagline suggests 'Change is in the air!'  And although globalisation is here to stay, are we beginning to witness a groundswell of national pride? The presidential halfway point is signalling half-time for the U.S. But will this motivating line in the sand emerge as a global phenomenon as governments and brands catch their breath before pushing on into a better future?
The second half 
Chrysler looked to capture their countrymen's spirit during the last Super Bowl ad break with 'It's half-time in America'. Unlike the usual Super Bowl ads, it broke with the convention of relying on humour or sexuality. Chrysler used grit, embodied by Clint Eastwood, to 'stand up for Detroit.' The ad was also unusual in that it didn't resort to the run-of-the-mill, sugary, star-spangled banner stuff often used to try and tap into national pride. Instead, Chrysler took it on the chin and aligned the much-publicised troubles of the automotive industry with the struggles of the nation. So whilst there was Obama-like hope, and Lincoln-like unity in their story, most importantly there was resilience: 'This country can't be knocked out with one punch,' Eastwood growls. 'We get right back up again and when we do the world is going to hear the roar of our engines.'
Best Made In…
Others are also tapping into the creative opportunities provided by patriotism. TriBeCa-based designer Peter Buchanan-Smith was down on his luck. He'd separated from his wife, he'd split with his business partner, and his dog had died! Yet the success of his Best Made Company is an inspiration to those who believe in 'made here'. He has taken one of the oldest tools known to man, the axe, and turned it into an art form – 'It's the tool that built America', he says.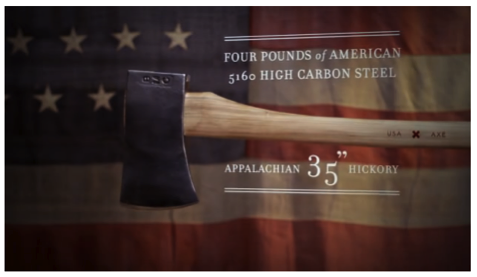 Photo. Best Made Company's axe
It's one thing to have a good product idea, but half the entrepreneur's battle is bringing it to life. That's where Maker's Row aims to help – by simplifying the manufacturing process. The company provides access to industry-specific factories across the U.S., alongside in-depth profiles and video tours to help entrepreneurs pick the best factory for their business.
Users of Maker's Row can save factory profiles, contact factories directly, read and write reviews, and get updates on new industries and categories. The site is free for users, and factories pay to be included.
Photo: Maker's Row factory
The idea of 'made here' is taking off this side of the pond too. British clothing brand Albam has published a book of portraits called Factories that provides a snapshot of the people, tools and places that bring the brand's garments to life. 'People are looking for an increased understanding of where food comes from,' according to James Shaw, founder. 'I think clothes are going that way too. People are important. Ours is a people business, for people, made by people. We're proud of the relationships we have with the factories we use and we want to display that.'
Beyond homeland
It'll be interesting to see how other industries respond to their half-time talks, or think about going beyond 'made here'. In the UK already we've seen the recent loss of retailers Comet and Jessops, with HMV hanging by a thread. Resilience alone may not be enough. Finding new ways to do business and connect with audiences is also needed.
The ideas seem to being coming from further afield. Take the recent retail mash-up between casual fashion house Uniqlo and fellow Japanese electronics chain Bic. Together they've created Bicqlo, which Bic Camera President Hiroyuki Miyajima described as a 'magnificent jumble!'
He may be right. Bic Camera's loud displays whir and buzz next to Uniqlo's no-frills wardrobe of puffy gilets and pastel chinos. Uniqlo mannequins are more than clothes hangers. Some, bundled up in matching cashmere scarves, are in the middle of pouring coffee while others, in basic layers, push Dyson vacuum cleaners. On the opening morning more than 4,000 people were lined up outside the giant store, which commands half a city block in Tokyo. Bizarre bazaar or stylish lifestyle convenience? Time will tell. One thing's for sure, I doubt it's the sort of counterintuitive collaboration Jessops would have even contemplated.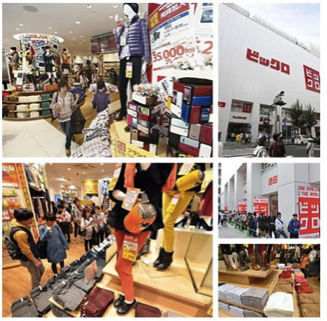 Photo. Bicqlo
Look East
It's not only the developed economies that are looking to home first to regenerate. Economic powerhouse China is slowing and maturing. Maybe it's nearing its half-time, too. Time to think beyond imports and to celebrate it's own. Like the Brand New China Store, situated in Beijing, a fashion and lifestyle outlet that focuses exclusively on Chinese designers. Selling clothes, accessories, furniture, home décor items and paintings at a wide variety of prices. It's a design store for and by modern China.
China is also looking to capitalize on the growing domestic demand for reasonably priced aspirational products like smartphones. Which is why China's Unicom now distributes Xiaomi's MI-ONE. The MI-ONE costs CNY 1,999, less than half what comparable smartphones from Apple or Samsung usually cost.
Half-time's ending, who's going to win?
About the Author

Greg Taylor became founding partner in global brand design consultancy Elmwood in 1989. Now Director of Brand Provocation, Greg is the creator and facilitator of Step Change™, Elmwood's strategic tool for moving ideas forward. Clients include ASDA, Wal-Mart, Arla Foods, BBC, COI (Defra and DfT), Cable&Wireless, Comic Relief, Debbie & Andrew's, Durex, Glasgow 2014 Commonwealth Games, McCain, and the Met Office.