Marc Jacobs Has Become Diet Coke's Creative Director for 2013
Marc Jacobs replaces Jean Paul Gaultier as the creative director of Diet Coke for 2013. The brand, which celebrates its 30th anniversary in Europe this year, has tapped the fashion designer to design the new packaging ("whimsical, feminine" as he confessed to WWD) for the diet version of the legendary drink and to handle the creative part of the brand's promotions in 2013.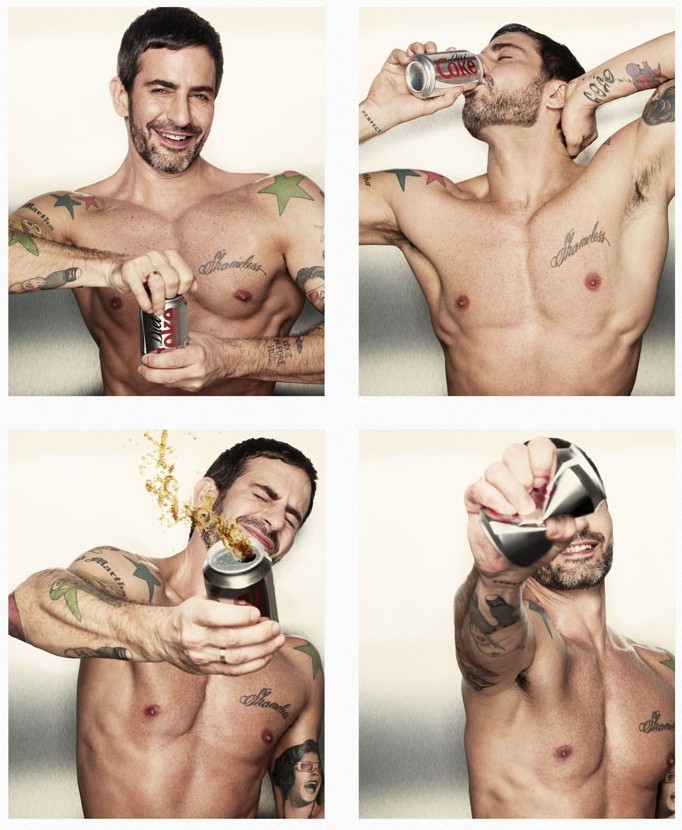 Photo: Marc Jacobs is Diet Coke's new creative director, photo by Stéphane Sednaoui, www.wwd.com (click to enlarge)
The packaging with the new designs will be available starting next month across Europe—it is set to be rolled out in 11 countries, including the UK, France, Benelux and Iceland.
As part of this creative partnership, Marc Jacobs is developing three cans, three bottles and three ad campaigns—the designer drew inspiration from the recent decade in the fashion world. The predecessor of Marc Jacobs, Jean Paul Gaultier, incorporated his iconic fashion looks into the Diet Coke bottle's design. The visual pieces by Marc will be based on fashion references to the Eighties, Nineties and Aughts, coming along well-recognized Jacobs' creative approach—they will be revealed later this month.
The spot, which stars tattoo-covered Marc Jacobs as a hunk, who excites the three girls without even stepping out before them, is the first ad piece of the campaigns, shot by photographer Stéphane Sednaoui. "I still think it's hysterical people want me to take my shirt off. You know, I'm going to be 50 in two months, so I guess I should be glad. It feels like the decade of me taking my shirt off," commented the designer.
The promotions, due to arrive in mid-March, are developed for print, outdoor and digital platforms. Most likely, the brand won't integrate its legendary trio of female puppets, which were "starring" in Gaultier's promotions, in the new campaign. Still, there will be some references to the child-related theme: in the new ads, Jacobs will be featured alongside Latvian model Ginta Lapina and giant pop bottles. "They're quite cartoony," shared Jacobs, commenting on the upcoming spots.