V Energy Invites New Zealanders to Become Robbers Online
Australian-Zelanian drinks distributor and manufacturer Frucor Beverages has launched an interactive 8-week promotion for its V Energy drink, providing New Zealanders with a once-in-a-lifetime opportunity to become a 'robber' in a virtual space and steal their share of the $100,000 prize. The campaign, developed by BBDO NZ, encourages the country residents to steal the money from each other on the online destination launched at www.vrobbers.co.nz for a chance to receive their share in real cash after the competition ends.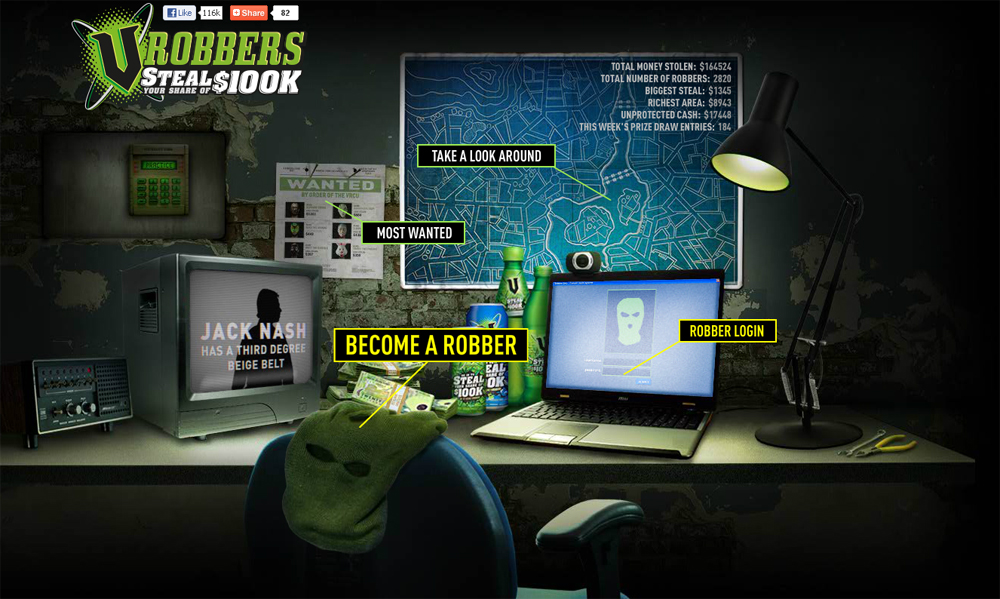 Pic. A snapshot from the www.vrobbers.co.nz page (click to enlarge)
"You have until midnight, Sunday 31st March to become a robber and steal as much if the $100K as possible as you can from other robbers. But remember, there will be plenty of greedy robbers trying to steal your cash," says the website's loading page. The brand also asks the participants of the promotion to "obey all laws" in the real world, "or the police may be knocking on your door sometime soon." While registering as a robber, one is invited to choose a mask and a name (they also can take a photo using their webcamera).
Players can take a look at the map, where the biggest shares are marked green, see the list of the most wanted robbers and start the game. By entering unique codes from the promotional V Energy packaging, players can "protect" their cash for limited time or "steal" other robbers' stashes. So far, the biggest steal is $1,345 and the amount of unprotected cash is $17,448.
"We're bound to ruffle a few feathers for promoting stealing, but let's be honest, the idea of stealing your share of a cash prize is way more interesting than winning it. We wanted to challenge the traditional WIN WIN WIN promo mechanic," shared Aaron Turk, digital creative director, Colenso BBDO.