The horsemeat scandal may have proven crippling for some of the food industry's best-known brands and high street names, but one sector to actually benefit from the uproar has been independent butchers.
A recently released study from the Q Guild, a trade association representing more than 100 top-end butchers, shows that sales amongst members have risen by as much as 30 per cent, with similar figures being reported across the UK.
Here, David Rogers, founder and creative partner at packaging and brand design consultancy Pure, explains what butchers should be doing to capitalise on this upturn and prolong the benefits.
Provenance is certainly a key word when it comes to the sale of meat at the moment, and this is something that independent butchers have by the bucket load. It is safe to say that there is currently a major trust issue between the consumer and convenience food manufacturers, which is something that your local butcher is in a strong position to exploit.
Having long been a supporter of small, independent businesses, I certainly welcome this change in consumer behaviour and the benefits it is bringing, however, I think there needs to be a sense of realism about how long it is going to last.
It must be remembered that the average consumer is a fairly fickle creature and misdemeanours can soon be forgotten. You only have to look back to 2007 and the outbreak of the H5N1 strain of bird flu amongst poultry at the farm of a major meat brand to see this. The infection inevitably had an impact on the company's bottom line but it did not last long. The work of a big brand design agency and a relaunch with a more natural feel soon had sales back up to previous levels. And, I dare say, we are about to see the same again for those brands caught up in the horsemeat scandal.
Another thing that these brands have on their side to make the bounce-back even quicker is the unstable economy. As much as consumers like the idea of independent shopping, there is often an issue of cost. If a parent sees a family lasagne for £2.99, do they have a choice to nip to the butchers to buy the best mince, pasta and sauce to make it from scratch? The simple answer is 'no' and that won't change anytime soon. So whilst consumer habits may have changed in the short term, the economy dictates that old shopping habits will return. A bit of a rebrand and a special offer price-point, and I suspect the horsemeat scandal will be yesterday's news.
Of course, for the independent butcher who has been reaping the benefits, it means they only have a short timeframe to attempt to convert at least some of their new customers to a permanent new way of shopping. But how should they do it?
Butchers have always benefited from a loyal, mainly older customer base, which grew up shopping locally. The big issue has always been how to drive the younger 'convenience generation' into the butchers, and this is the market that they now have a prime opportunity to target.
It needs to be remembered that butchers, regardless of size, should be treated as a brand. They are associated with heritage, tradition and, most importantly, trust and provenance and these are certainly the messages they need to be communicating to calm the current frustrations of the consumer.
My main advice would be to get help. Have a budget in mind, work locally and get a point of difference. Now is the time to fight the big retailers at their own game. It is about promoting the nicer shopping environment, diverse range of products and a unique destination product that will drive customers in. Branding is endless, but something as simple as an A-Board outside the shop with a limited edition "Marmite Sausage" will get you noticed. Simple, clear, but effective.
I think there is also an opportunity for butchers and local farmers to join together when it comes to marketing. After all, it is usually the case that farmers would prefer to sell their meat to small, local butchers, as the larger retailers tend to hammer them down on price to such an extent that their margins are tiny. A joint campaign would also help to reduce costs.
To show how branding for butchers can actually work, I would like to share a little story.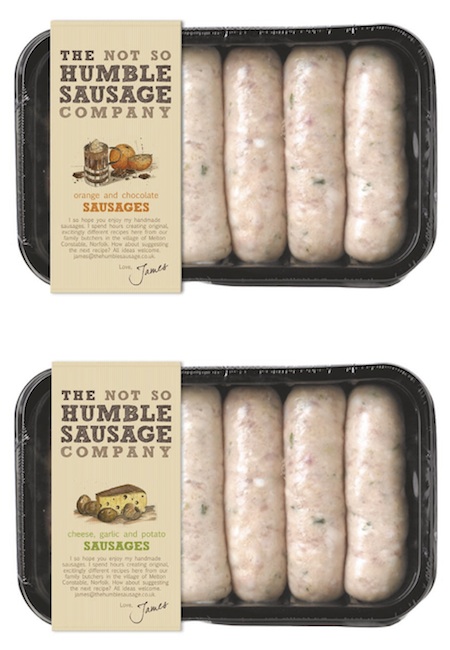 Photo: The Not So Humble Sausage Company's bangers
I have a friend that I have known for four years now, who owns a family butchers in the heart of Norfolk. The shop has always been busy, with queues from opening until closing, because he goes the extra mile. He has 40 varieties of sausages, with flavours that are just incredible—pizza, chocolate and chilli, three onion, Smokey Joes, Bombay delights. You name it, he has it, and it is all handmade with free-range meat and natural flavours, reasonably priced at less than £3 for four big sausages. That is his point of difference, which is something that every business needs.
As I believed so passionately in his business, I decided to lend him a helping hand and create a brand for him. 'The Not So Humble Sausage Company' played on heritage, authenticity and origin. Each pack also contained a personal message from James the butcher, reminding the consumer they are supporting a family business and inviting them to engage with the brand by suggesting future recipe ideas.
The brand helped to increase his customer base even further and even attracted the attention of a major supermarket, which invited him in to discuss the potential of stocking his sausage range in store. Obviously, we are not necessarily talking about getting products stocked by a major retailer, but it certainly shows the branding potential that butchers have at the moment.
So, whilst I still believe that the current upturn in sales for independent butchers will be short-lived, with some sound advice and a small spend now, there is nothing stopping butchers from hanging on to some of these new customers, attracting new ones that remain suspicious of mass-produced convenience food, and, quite literally, making the most out of a bad situation.
About the Author

David Rogers is the owner and creative partner of Nottingham-based packaging and brand design consultancy Pure, which works with some major national brands such as Unilever, Trevor Sorbie and Blockbuster and many international/local brands, specifically, in Russia.