Converse Invites Its Fans to "Get Dirty" during the European Music Tour
Converse has launched the European "Get Dirty" music series to give a stage to various indie music performers, including international artists and aspiring bands. The three-month tour, which kicked off in Paris on March 19, will make stops in London, Barcelona, Madrid, Berlin, Hamburg, Cologne, Vienna, Amsterdam, Antwerp and Milan. The project is inspired by the brand's seasonal manifesto "Shoes Keep It Clean, Sneakers Get Dirty," meaning that people who wear the legendary sneakers are not afraid of exploring new unpaved muddy roads. Converse has also released the "washed and faded" Chuck Taylor All Star Well Worn and 70s Chuck collections in line with the effort's theme.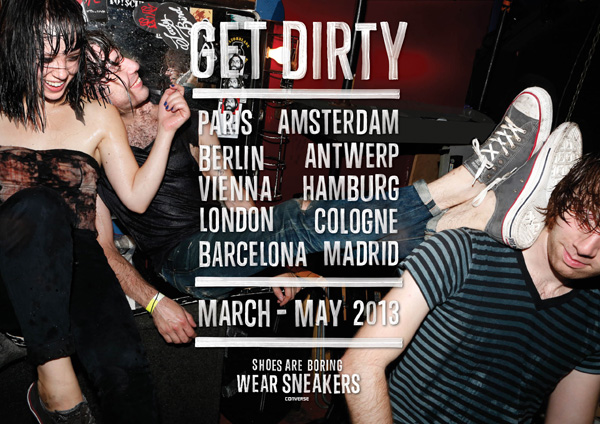 Photo: Converse "Get Dirty" music series,
At the first tour stop in Paris, Converse drove its fans into the middle of the live music experience and invited them to push the boundaries of their creativity in developing "well worn" sneaker looks with the "Tune & Repair" customization service. The first performance, featuring local artists Hoax and Pional as well as internatioanl stars The Raveonettes, Cribs, Gallows and more, was staged at the pop-up Converse 19YT Paris venue. The space will stay open and serve as a store from March 23 through April 20.
The upcoming concerts will take place at "some of Europe's most intimate venues," for more details on the schedule, locations and tickets, visit the dedicated page. Interestingly enough, in some cities Converse will spend several "dirty" nights—for instance, in London there will be three intimate shows in mid-April, featuring different artists, and d in Paris, there another concert—not at the Converse 19YT—is taking place on April 3.
"We are fortunate to have been embraced by musicians for decades and we always strive to give back to the music community by being useful. GET DIRTY provides rising artists the chance to perform with some amazing headliners and really make an impact in cities across Europe," commented Jed Lewis, Converse Music Marketing Director.
Converse is known for its deep connection with the independent music labels. The brand helped save the legendary 100 Club, teamed up with musicians on the collaborative "trio" projects, and has also been supporting aspiring musicians with its "Converse Rubber Tracks" free recording studio. The ongoing "Get Dirty" tour is another chapter in this story of passion towards indie tunes.