Google Helps Measure Mobile ROI with the New "Full Value of Mobile" Suit
Since mobile ad revenues are on the rise now, Google is developing a new tool, "Full Value of Mobile," designed to help marketers understand the full picture of mobile's correlation with both off- and online sales, as well as measure its ROI accurately.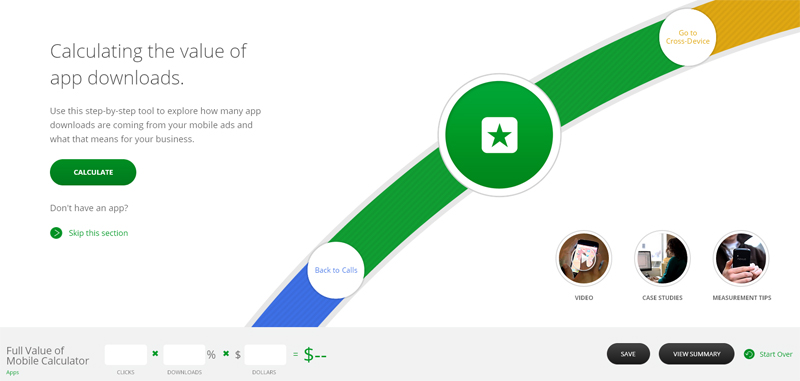 Photo: Google's Full Value of Mobile suit of tool, a snapshot from the app section (click to enlarge), www.howtogomo.com
The new set of tools, which sync with Google's visual esthetics, can be accessed at the HowToGoMo website launched back in 2011. Using clear and simple equations and benchmarks, the suit analyzes five major channels—calls, apps, in-store, mobile site and cross-device,—through which mobile drives purchases. The step-by-step calculator requires users to enter the data from AdWords manually. In about 30 minutes the suit will offer the full analytic report highlighting the total value, value per click, and ROI driven by mobile.
Along with analytics, the calculator features successful case studies (from adidas and Radioshack stores), tips for better measurement and short videos that illustrate each of the channels. To highlight the connection between these pathways, some of the videos reference one another. Those who want to learn more about the calculator and how it can be used, can register for Google's webinar on March 28 at 1pm EDT here.
"Mobile doesn't have a conversion problem, it has a measurement problem. This will unlock the potential of mobile … This is going to provide hard ROI data in the future versus marketing just shooting in the dark," commented Jason Spero, Head of mobile strategy at Google, to Ad Age. He also noted that the suit is at the "infancy" stage at the current moment and it will be refined, as more mobile ad data gets revealed.
On its recently launched the Think Insights platform, Google has also unveiled the "Mobile Search Moments" downloadable 42-page study, conducted in partnership with Nielsen. It includes a plethora of infographics that explain how mobile influences purchases and consumer behavior now. The study's findings include: 77% of mobile searches occur at home or at work, 17% on the go; shopping queries are 2x more likely to be in store; on average, each mobile search triggers nearly 2 follow-up actions; and 55% of conversions (store visit, phone call or purchase) happen within an hour. For more highlights, read the full research here.