Hyundai Motor Co. has added some fashion to its brand picture by unveiling three, not-for-sale Equus limousines designed by Hermès. The car marker is not planning to extend the edition to the market, but it hopes that the collaboration will influence customer perceptions and the brand will be more associated with the top-notch luxury fashion world.
Hyundai is the fifth on the list of the world's top-selling cars, and the brand believes it can improve the situation by trying to look fancier. "The model is aimed at improving brand image," commented Cho Won-hong, Hyundai's chief marketing officer.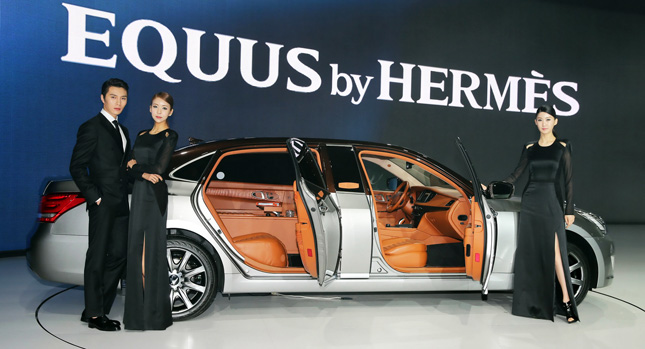 Photo: Hyundai Equus model designed by Hermès
The exclusive Equus by Hermès model was presented at the Seoul motor show yesterday, March 28. The luxury car is based on the 2012 long-wheelbase model and features luxury exterior tweaks and the cabin. For the interiors, the team of Hermes artisans applied a selection of premium types of leather—for instance, the door panels are lined with crocodile leather, which is often used in Hermes signature accessories. The light-brown cabin is equipped with over 20 items created exclusively for this car by Hermès creatives. The limited-edition Equus cars, named after the Latin word "horse", feature the fashion brand's logo.
As to the functional part of the project, the cabin design includes some features that are traditional in the aircraft interiors—this is reflected, in particular, in the rear center console of the car that has got a folding table and four-cup holders along with a storage space to keep a water bottle and a travel blanket. The project, aiming to rediscover the "modern premium," took two years to implement.
In 2011, the company collaborated with the Prada fashion house on developing a design for the limited-edition line of Genesis sedans, which were set to compete with Mercedes and BMW. The company managed to sell only one third of the intended volume of 1,200 cars. Hyundai believes that the fail is explained by the brand's image problem and sees the solution in collaborating with more respectful labels from the luxury universe. In addition, Hyundai is set to double advertising spends in Europe to an estimated $821 million as part of the rebranding effort, Reuters reports.