A tissue brand owned by Kimbery-Clark Corporation, Kleenex, continues to focus on its aesthetic cues in a new U.K. campaign aiming to engage young designers, artists and all creatives alike. The new push is supported by one of the leading British interior design experts, Kelly Hoppen MBE, who wrote a brief to create three designs for a limited-edition autumn range of Collection Cubes.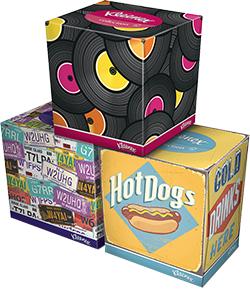 Photo: Limited Edition Kleenex Collection Cubes, previous ranges
The competition, officially hosted at the online design community Talenthouse, is open to UK and Ireland residents aged 18 years and older. The entries will be accepted until April 29, 2013. Then Facebook and Twitter users will be able to vote for the best designs to define how the Kleenex tissue boxes of the Autumn 2013 Collection will look like.
The social-media part of the campaign is being delivered by We Are Social, media relations and PR held by MHP Communications.
Jenny Beral, Brand Manager for Kleenex commented on the upcoming project, "This campaign should help to grow the category further by creating even more styles and trends to suit every household and subsequently attracting a younger, design-focussed audience to buy tissues. This is just the first in a series of design-led campaigns for the brand and we are incredibly excited to be partnering with Kelly to boost our journey further into the design arena."