Ted Baker Urges Its Fans to "Write a Line" in a Creative Way
To promote the SS 2013 collection and its "Finishing School" motif, London fashion brand Ted Baker has launched a new global activation, urging the audience to give a creative finishing to the inspirational lines the brand is posting on Facebook starting this week.
Photo: Ted Baker Lines tote bag, day 1, www.facebook.com/TedBaker (click to enlarge)
Photographs of the unconventionally written lines should be submitted to Instagram and Twitter with the hashtag #TedBakerLines or via a Facebook app. Each day, Ted Baker accepts up to 500 entries—once the limit is reached, the contest is over for the day, and the participants who have submitted correct entries in time receive their gift, a limited-edition Ted Baker tote bag with the winning line. The participant who shared the most creative way to write the line gets the top prize— a Ted Baker limited-edition leather satchel, personalized with his or her initials.
The Monday's line was "I am the exception, never the rule," the Tuesday's one was "I will always put the fine into refined," and today the line is "I never seek attention, I let it seek me." The brand accepts both photos and 6-second Vine videos as submissions (up to 5 MB). Those who can't offer their own creative finishing can just retype the line using a Facebook app. The entries to the Ted Baker Lines competition can be viewed in the gallery. To find out if you are the winner of the day, go the promotional page on the brand's official website.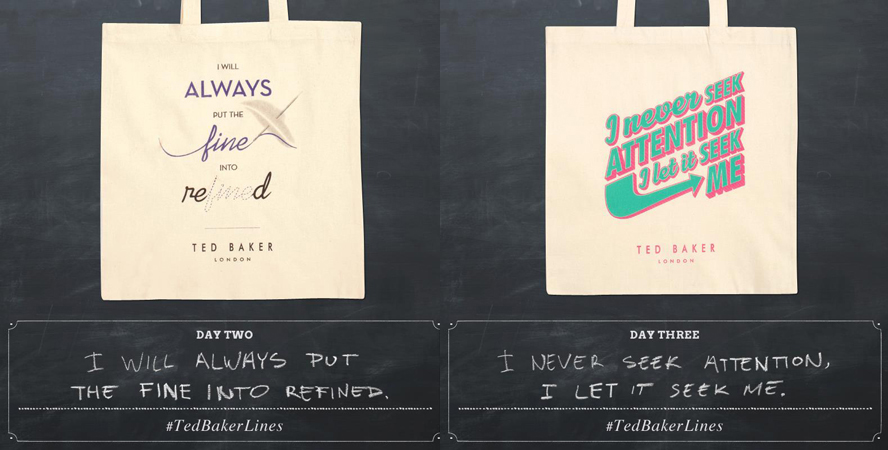 Photo: Ted Baker Lines tote bag, day 2 and 3, www.facebook.com/TedBaker (click to enlarge)