The team of official Google Glass testers, which includes 8,000 selected people, now can try an application that reads news headlines and summaries aloud. The NYTimes has become the first publisher who integrated a savvy application, presented at 2013 SXSW in Austin last month, into its media.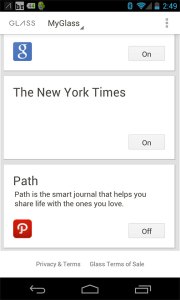 "Experience the award-winning journalism of The New York Times on Google Glass. Get Breaking News alerts and hourly Top News updates. Tap to have article summaries read aloud. Service for Google Glass: stay informed while you're on the go, wherever you go," reads the dedicated page on the news publications' website. Below the text, there is a "Connect My Glass" button that leads to the page with the app.
TechCrunch sheds light on how the application works. To navigate through the stream of news, one will have to make a quick tilt of the head, and this will allow surfing through photos and full articles as well. To have brief news summaries read aloud, user will have to swipe the side of the high-tech glasses. It would be a nice way of getting into the news stream, if the experience doesn't turn out to be too intrusive or tiresome.


Photos: Google Glass NYTimes app, www.techcrunch.com