MINI is arriving at the Salone del Mobile 2013 with the two-part installation KAPOOOW!, which puts the MINI Paceman into the spotlight. The art project is the central piece of a broader experience, MINI KAPOOOW! @MINI Paceman Garage platform, serving as a space where artists and designers are invited to exchange their creative visions in a series of meetings, sessions and workshops. Both the installation and the creative space will be open at the design furniture fair through Sunday, April 14.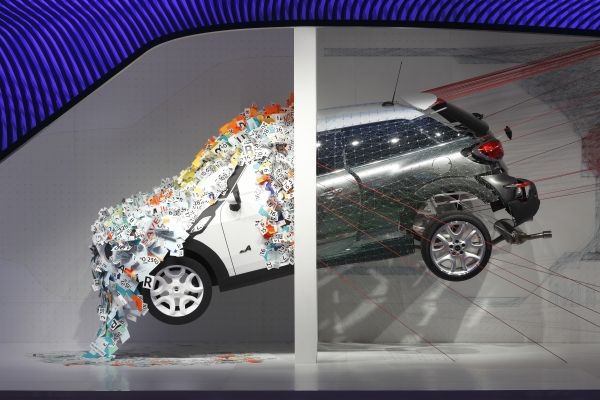 Photo: MINI KAPOOOW! installation at the Salone del Mobile 2013 (click to enlarge), www.press.bmwgroup.com
The new multidimensional installation, developed by the MINI Design Team headed by Anders Warming, encompasses the live vibe, the feel of high speed and connections with people. The project was inspired by the personality of the Sports Activity Coupé and the emotions it evokes. The car is shown "leaping" from one world into another one, "in which colours and materials change and open the door to unimagined realms of experience." The vehicle has two different halves, each belonging to its own universe, while being part of one integral car body.
The back of the car, painted in chrome, is connected with a plethora of people pictured on the wall—the ties are embodied through actual thick red threads that embody the car's energy and high speed. This part of the car is all covered with the web of thin blue strings. The MINI Pacemen breaks through the wall, which symbolizes the second phase of the car's personality. The front part of it gets into the parallel world, in which MINI turns white and gets decorated with a plethora of multicolored paper pieces with words and numbers. The creators of the installation comment on this idea: "The use of paper symbolizes the 'prototyping' of a creative process and as such opens up the possibility of drawing on its two-dimensionality to represent a new three-dimensional sculpture."
In addition to the installation, MINI has also launched its temporary MINI Paceman Garage during the world's biggest furniture design fair. The creative garage will be open for six days, inviting guests of the show to enjoy the burst of creativity during the activities that will include various meetings and workshops as well as hot DJ sets and show cooking sessions. The detailed program is outlined here.
BMW, MINI's parent company, has also arrived to the Salone del Mobile 2013. The auto giant has unveiled its moving multi-level carousel installation at the fair.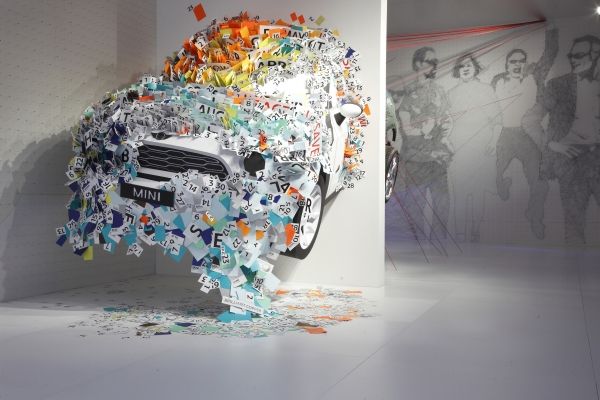 Photo: MINI KAPOOOW! installation at the Salone del Mobile 2013 (click to enlarge), www.press.bmwgroup.com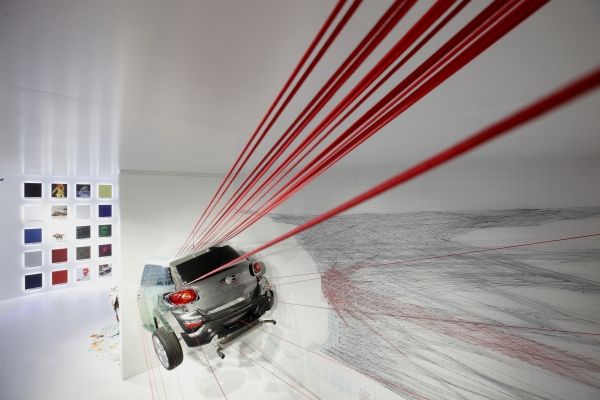 Photo: MINI KAPOOOW! installation at the Salone del Mobile 2013 (click to enlarge), www.press.bmwgroup.com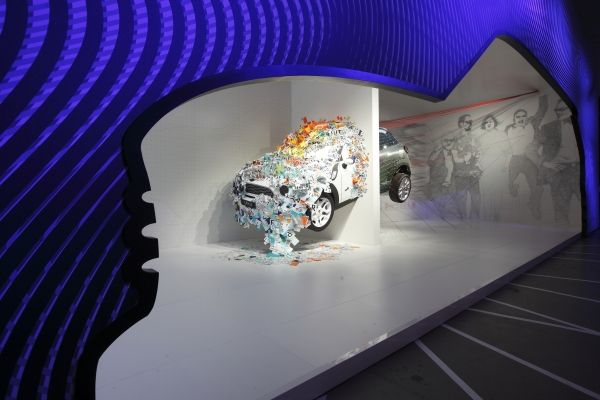 Photo: MINI KAPOOOW! installation at the Salone del Mobile 2013 (click to enlarge), www.press.bmwgroup.com