Nestle Fights Unhealthy Eating in a New Campaign in the USA
Nestle USA is tapping into the educational healthy-diet movement with a new campaign "Balance Your Plate with Nestle," that aims to provide Americans with simple tips and tools on how to cook tasty and balanced meals at home. The new project highlights the importance of using frozen prepared fruit and vegetable entrees and putting them in the "center of the plate" along with fresh components.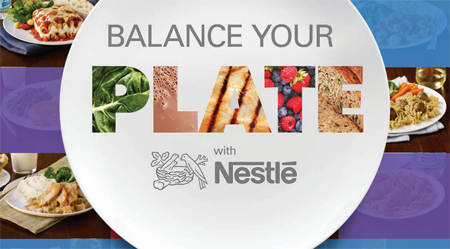 Pic.: A title page of the "Balance Your Plate with Nestle" toolkit
The centerpiece of the campaign is a "Balance" page on the company's official website. It invites users to download a free toolkit for health professionals, which features daily meal plans for a standard 2,000-calorie diet, built on recommendations from the 2010 Dietary Guidelines for Americans (DGA). It also gives suggestions for 1,800 and 1,500 calorie diets. While frozen food, which is usually split into portions and features nutritious data on its packaging, could contribute greatly to tackling the problem of little attention to balanced menues, Nestle also encourages to consume more fresh vegetables and fruits together with the prepared frozed meals.
The project comes as way to raise the problem of unhealthy eating—studies show that the U.S. consumers come close to meeting the 2010 DGA only 7 out of 365 days a year, while 87% of consumers said they would like to learn about simple ways of following the national dietary guidelines. "Maintaining a healthy diet and lifestyle requires commitment, but it doesn't need to feel like a chore," commented Frank Higgins, President and CEO of Nestle Prepared Foods Company. "We believe that a resource like 'Balance Your Plate' gives Americans what they want—easy steps for managing portions and calorie intake that still include their favorite foods."
In the past few years, balanced diets and healthy lifestyles have become the trending theme taken up by many food and drink companies in the USA. For instance, back in 2010 PepsiCo supported Michelle Obama's "Let's Move" initiative to reduce childhood obesity, and earlier this year beverage giant Coca-Cola Company continued its long-term anti-obesity effort with the launch of a campaign that informed soft drinks choices and active lifestyles. Fast-food giant McDonald's, often blamed for paving the way for obesity, also puts nutrition-minded choices into the spotlight with the new packaging first introduced for Happy Meal and than for a regular menu .