Nike is seeking new approaches that may revolutionize the shoe industry in the nearest future. In partnership with NASA, the U.S. State Department, and USAID, the sportswear giant is announcing the fourth Launch Challenge, calling R&D textile manufacturers to submit their groundbreaking ideas on new sustainable materials and entrepreneurial practices. The LAUNCH System Challenge 2013 that runs from April 24 through July 15, will accept "early bird" submissions starting June 15.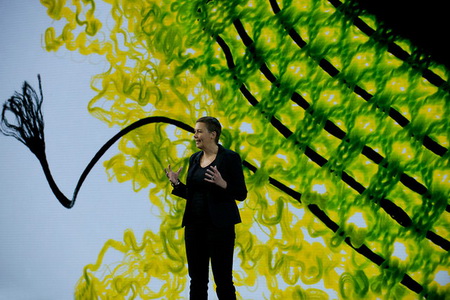 Photo: Hannah Jones, VP of Sustainable Business & Innovation for Nike
"We are interested in innovations with potential to scale in 2 years, as well as game-changing early stage technologies and prototypes. Innovations can be business models, financial instruments, technologies and programs that accelerate research, education and capacity building," writes the LAUNCH page. Such initiatives, aimed at bringing collective genius, are important for the apparel and footwear industry since the materials they use for production— fabrics, rubber, foam, nylon, etc.—generate tones of non-recycable waste.
The concepts submitted to LAUNCH System Challenge are to tackle at least one of the 10 problems outlined in the call. These include eliminating toxins in fabrics; enabling recycling efficiently and effectively; smart and/or self-healing materials; developing data generation and capture technologies and mechanisms to enhance transparency across the value chain; and more.
Technically, applicants from all over the globe may enter—Nike notes that a principal from the participating organization must be available to attend the LAUNCH Systems Challenge 2013 Forum at NASA's Jet Propulsion Laboratory in California, September 26-28. The creative ideas are accepted on the dedicated site of the competition. The best 10 submissions will be chosen by a panel of experts as well as public voting. The selected innovators will meet a group of 40 thought leaders in business, government, science, technology and communications—all travel expenses will be covered by the coalition behind the Challenge. No cash prizes will be awarded, instead the winners will receive an extensive coverage of their innovation stories.
In late May, LAUNCH will kick off its first nano-challenge, inviting university students to submit their own ideas on reshaping the system of materials and the ways in which they are developed. It is announced that the nano-contest will be scheduled to coincide with the LAUNCH Systems Innovation Challenge. More details will arrive in the coming weeks.
The previous theme of the LAUNCH challenge was "Beyond Waste"—view the finalists here.