Nissan is kicking off a new pan-European campaign under the "Urban Thrill Rides" tagline to promote the city car, a new Nissan Juke n-tec, available in European showrooms from March. The effort, developed by TBWAG1, writes a new charter in the "urban" narration, started by the brand years ago. It reveals the car's adventurous personality and demonstrates how easily it integrates into the megalopolises' life, ruled by high speed. The "Urban Thrill Rides" push is launching across more than 20 European countries starting April.
The new campaign, which is rolling out across multiple channels including TV, print, outdoor, retail and digital, pays tribute to the brand's passion for innovation and its ability to turn daily urban journeys into a new extreme sports experience. This is reflected in the 60-second spot, which showcases Nissan Juke's extremely bold ride across the night city. The commercial highlights the brand's latest innovation, Google™ Send-to-Car, which enables the driver to send Google Maps data to the vehicle remotely. In the spot, the car is "pulled" to the destination with a virtual blue rope. The vehicle is making wakeboard and snowboard moves during the ride.
"For where most people see streets, pavements, buildings and bridges, Juke sees black runs, jump points, half pipes and killer surf. It turns every single journey into a white-knuckle ride. And like today's most extreme thrill seekers. It uses the latest technology to push every sensation to the max," shared  Rudi Anggono, Executive Creative Director, TBWAG1.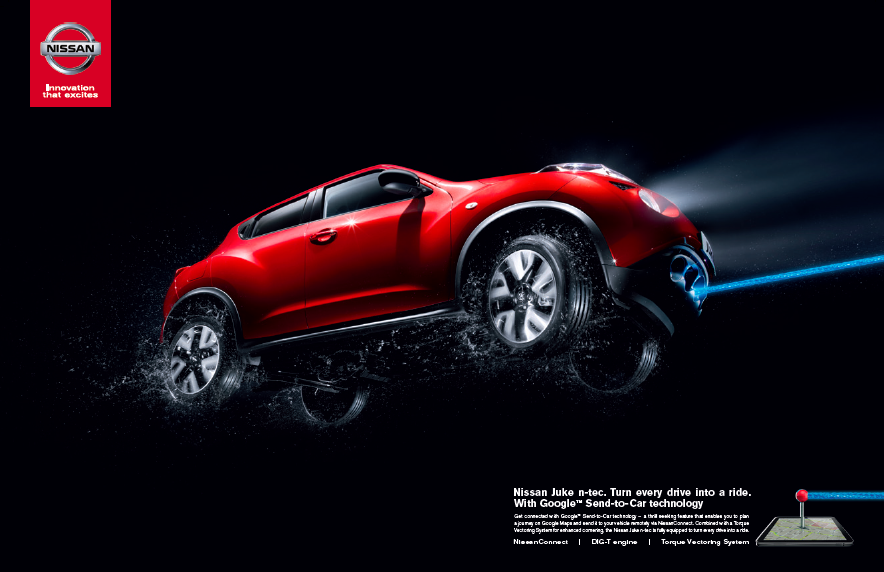 Photo: Image for print and outdoor advertising, Nissan Juke n-tec