The common notion is that the big agency model rules—large organisations need to work with large agencies that can match them in size and stature. However, with Greenwich Design working with a number of global, blue chip companies over the past 50 years, and, with most of my personal experience as a David rather than Goliath in the agency world, I can firmly say that this is not the case.
There is actually a lot to be said for smaller agencies—smaller teams mean better communication and less chance of messaging getting lost in translation. The whole team is focused on the 'doing' rather than managing or on admin tasks, which generally means more innovation and ideas generation, quicker response times and greater ability to adapt to change.
For small agencies, every individual client makes an impact to the bottom line and so each client is valued as if they are the only client. Senior designers, owners and directors will be involved in day to day client work. We see a level of respect for clients that large agencies don't seem to have—perhaps growth can lead to an earned arrogance but often the ego can overstep the mark.
It is often thought that small agencies will be unable to provide the number of resources that a large client requires, however I'm sure it would be interesting to look at how many staff larger agencies actually assign to each piece of work. For small agencies, often every single member of the company will be involved in a project in some shape or form. In the same way, it is only those agencies which have a global network of impressive offices that are seen to have the capability to implement global campaigns.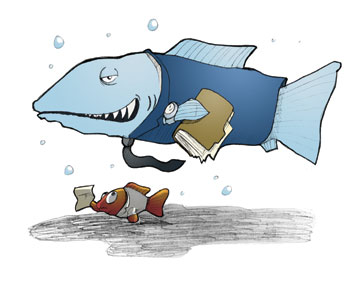 Pic: Illustrations from the Domicile Experts blog
It's true what they say—size isn't everything. It's actually all down to perception. We are in an industry where personality and relationships are most important. Agency choice can often be more down to knowledge and expertise than physical size. People buy people, and the reputation and personality of one team member is often able to influence the decision of which agency wins the work.
What is important no matter the size is the agency's ability to demonstrate control. A client needs to be able to trust the agency's capability to manage the account – to provide counsel, constructive feedback and professional advice.
A few years ago we saw the trend towards larger 'integrated' agencies. Bigger agencies expanding their offering to provide a 'full-service' skill set. Although it might seem like a much easier, cost effective option I'm not sure clients always receive the best advice across the disciplines they require. Smaller agencies tend to stick to specialisms—fields that they are expert in. With smaller agencies we are beginning to see 'networks' emerging—a trusted group of agencies with different skill sets that can be tapped into for projects as required. This is a great business model, no overheads where they are not needed and a really good way of adding value in times where we are all feeling the effects of the economy.
I have often wondered, what is the optimum size for a small agency? I read somewhere recently that 10 is the magic number. I know from personal experience when we reached the point at Greenwich Design where we had 15 staff the dynamic seemed to change. We found ourselves having to build in extra admin processes, meetings and reporting structures which seemed to slow the overall working process down. Certainly when a team gets to 20 there is a need to build in operational systems, you also begin to lose the personality and the brand.
So which is better? There are pros and cons to both, but certainly there is room for all of us. The fact that large agencies end up with large clients is really down to economies of scale—they just can't justify the smaller client budgets. One thing I would point out is that there is no difference when it comes to ability and creativity. For smaller agencies there is actually more pressure to be delivering first-class work—there is no (expensive, executive glass tower block) where to hide.
About the Author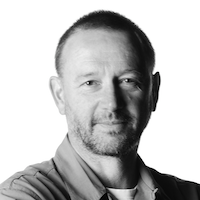 Simon Wright studied Graphic Design at London College of Printing. Having set up a design studio in Saudi Arabia and agency roles in London, he became Managing Director of Greenwich Design in 1994.
His expertise spans a wide range of disciplines across various design and marketing channels.