As part of the IPA's international outreach programme to promote the UK and its world leading creative industries, and to develop long-term business links with Brazil during the Olympic handover period, the organisation recently conducted a study tour of Brazil's creative hotspots. The trip gave us the opportunity to experience firsthand the cultural diversity and creative energy which has delivered Brazil a number of Cannes Lions in the last few years alone.
The trip took in the sights of Sao Paulo, Rio and Recife—the country's business, entertainment and tech hubs, respectively. With the support of the UKTI and British Council as well as the IPA's counterparts in Brazil, the study tour took in a varied itinerary of meetings with industry luminaries, agency visits and tours and working sessions. All of which allowed us to really find out what makes Brazil tick, what we can learn from their creative leading lights, and vice versa.
Before digging too deeply into the vibrant creative landscape and amazing success stories currently coming out of the country, it is impossible to ignore how quickly Brazil has risen to the fore internationally, currently sitting happily as the sixth largest economy in the world. Many may be unaware that inhabitants of the country have undergone almost inconceivable political and economic changes over the past decade alone, including five currency changes. Unemployment has sunk to 5.6%, down from 13.5%—remarkable for a population of almost 200 million people. Considering the UK figure currently stands at 7.8%, in a country numbering around 65 million people, it's a testament to the sheer economic powerhouse that is Brazil. In the last decade alone there, 40 million people have entered the middle classes with disposable income to share, and car ownership has increased with two million new vehicle sales—in a country starting almost from scratch on car ownership.
The delegation was privy to a fascinating presentation on the changing mindsets and social shifts at play among Brazilian consumers, conducted by research agency Limo, which brought into sharp focus the impact of this rapid prosperity on the Brazilian people. Access to technology has been a massive driver for the Brazilian consumer, with internet connectivity almost doubling over the last five years. This increase in internet access is also facilitating access to education and knowledge for a country where the distances between centres of population can be mind bogglingly large. Price points for computers and access to mobiles have been kept deliberately low by a government eager to educate its citizens.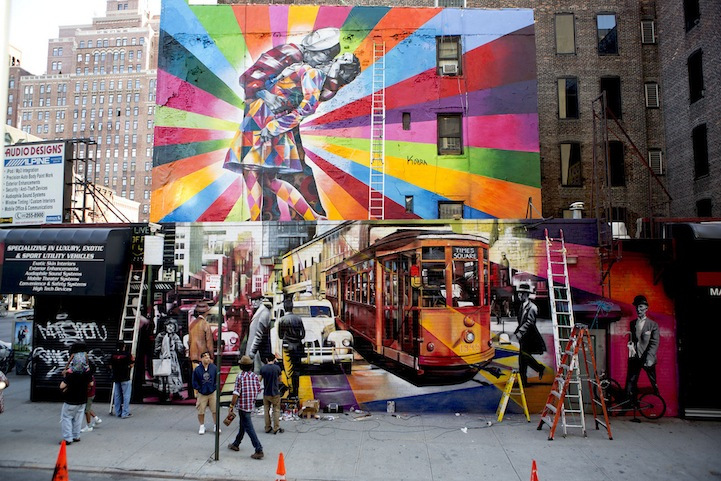 Photo. 25th Street at 10th Avenue in Chelsea, New York, street murals by the Brazilian artist Eduardo Kobra
This has had a knock on effect on social media use—Brazil is now the second largest market after the US for Facebook use, with some 40.3 million people actively engaged with social media on a regular basis. Pay TV is massive in the country with 45 million subscribers, and 15.4 million smartphones were purchased in 2012—an increase of 73% in ownership. The internet has become the third biggest media channel in the country – which would suggest it was a major focus for the creative industries in the country. That assumption would turn out to be wrong.
While Brazilians are now becoming much more widely educated and fully connected consumers, much of the advertising landscape is still very TV advertising focussed as mass TV advertising still guarantees near universal penetration of campaigns and there are some notable political issues which may trouble adventurous UK companies looking at the market with envy. For example, it is illegal to be a media buying agency in Brazil. As a hangover from state controlled media, all media buying is undertaken directly by full service advertising houses in Brazil, rather than separate entities as in the UK market. Equally the well publicised ban on outdoor advertising in Sao Paulo—a city of some 20 million people—could give British creatives cause for concern. However this can only change as the Brazilian creative industries grow and evolve with digital and branded content more baked in. One of the key strengths also of the Brazilian advertising and communications landscape and helping to give rise to its creativity is its diversity. Brazil is a true cultural melting pot, and such a clash of cultures coexisting leads to tremendous artistic and social vibrancy. This can be easily seen in much of their creative work with a cosmopolitan outlook conducive to developing and stimulating creativity. Witness such recent successes as the Radio Grand Prix for the Go outside magazine's Repellent Radio ad from Sao Paulo based Talent, or Ogilvy + Mather's Sprite Shower  or Claro promo and print Golds, respectively.
The Brazilian market certainly looks tempting, and while it can be a tough nut to crack, the rewards are there. The comms landscape is vibrant and dynamic, and we expect to see even more great things from the Brazilian industry, not to mention some of their agencies expanding overseas , especially given the impending World Cup and Olympics double-whammy about to take place in the region.
About the Author
Stephen Maher is the CEO of MBA, an integrated communications agency based in London. The clients list includes the AA, Accor Hotels, Everest, Mercedes Benz and the National Trust.