BuzzFeed has collaborated with Starbucks, the site's new partner, to let the audience share their real, personalized reactions to the site's viral content. The new feature called a "reaction cam" allows to create round GIFs using a cam so that readers can share their real-time visual feedback on the posts.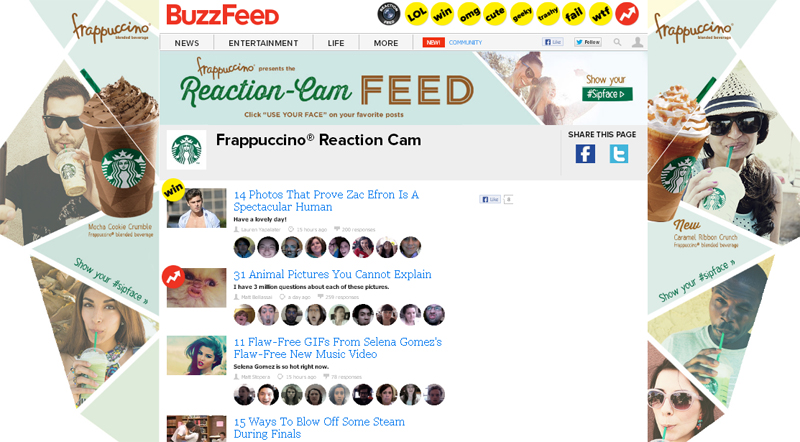 The sponsored initiative runs through June 24. Here is how it works: users read a post (sponsored by Starbucks or a non-sponsored "safe for work" piece) and then click on the "use your face" button to share a reaction in the form of a three-second animated GIF. The moving picture is created using their webcams, and of course, the site requests permission to use it. Currently, the option works only on desktops and the links to the GIFs can be sent to friends via Twitter and Facebook from the comments section. Readers can see the list of the nine most-recent reaction-cam GIFs at the bottom of the posts.
The new tool enables users to go beyond traditional buttons like "LOL," "Cute," "EW," "Geeky," and more when sharing their attitude towards a piece of content. Posts with such reactions can be found by clicking on the "Reaction feed" button on the top of the homepage, next to the other common reaction yellow circles.
It is the first time BuzzFeed collaborates with Starbucks. The "Reaction Cam" has been developed in a team-up with the media agency, PHD. Starbucks has also launched the "Share Your Sip Face" initiative inviting consumers to share their Frappucino sip style in photos.
"The most human way to communicate a reaction is through your face. We thought we could bring a higher level fidelity to BuzzFeed with how people share their emotional reactions," commented BuzzFeed Chief Creative Officer Jeff Greenspan to Ad Age.