Toyota USA previews a new social shopping app, Toyota Collaborator, that will allow potential buyers of the cars to learn more about the vehicles, customize them without visiting a dealership and even go on a virtual test-drive with friends online. The application, which was developed by Saatchi & Saatchi LA in collaboration with Google and Joystick Interactive, was introduced as a prototype at the Google I/O event.
"A car configurator is something every car company has, but this is really the first truly social and truly multiuser collaborative car configurator we've ever seen," Dylan Schwartz, Saatchi creative director, commented on the app.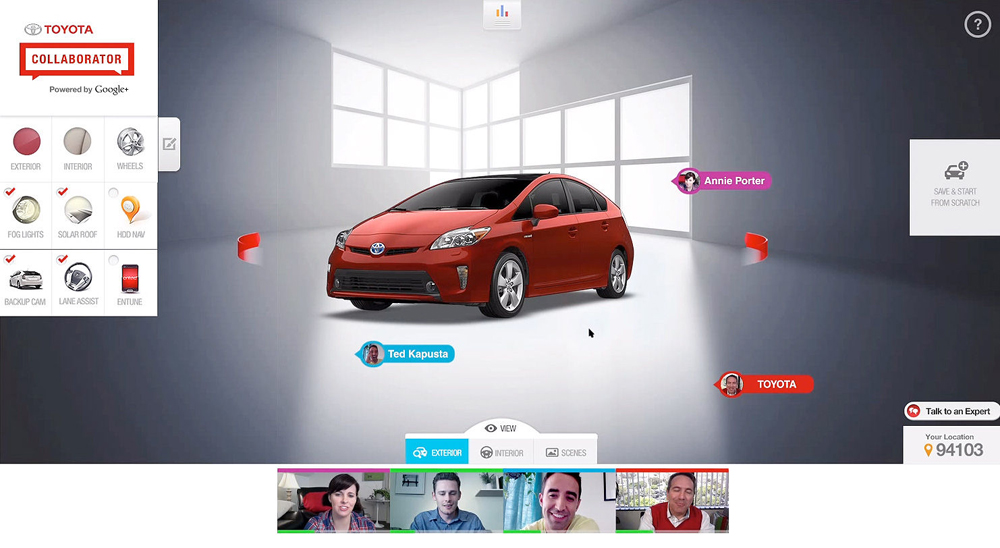 Toyota Collaborator maximizes the joy of selecting a car by letting users digitally engage their family and friends (up to 10 people) in this process. The experience rolls out in a Google+ Hangout video chat. Five friends can join the Toyota customer for designing a vehicle—they help pick up paint colors and features such as solar roof, lane assist, backup cam and more. The icons with the friends' faces and names are "flowing" around the car as they customize it, so everyone in the video chat can see who is picking the color or already re-painting the car on the same screen. All the features are activated with a click of a button, and the interior view shifts left and right automatically, depending on the eye-movement.
Just like at a physical dealership, customers can ask a Toyota salesman if they need some explanations. To reach him, they just click on the "Talk to an Expert" button on the right. The dealer joins the user and his or her friends on their face-to-face conversation. Potential buyers also can take a virtual test-drive, navigating through the selected location on the Google Maps with Street View—users are invited to enter the coordinates before they start. The final version of a collectively created dream car can be saved and shared via Google+, Facebook, and other social media platforms.
Currently, the Toyota Collaborator app is just a prototype, which is still in development and not available online. Toyota doesn't say when consumers will be able to use it.
"The dealers are looking for more authentic opportunities to connect with customers before they get to the showroom because they realize the car-buying process starts well before customers come in, and they want to help guide people's decisions," said Kimberley Gardiner, Toyota's director, digital marketing strategy.