In February 2013,  just before the presidential elections in Paraguay, UNICEF,  an international children's fund, has tasked the ad agency TBWA to address the issue of unregistered children who account for about 24 percent of all children born in Paraguay. And this number grows to 35 percent among indigenous children—they don't have IDs, therefore, have no future.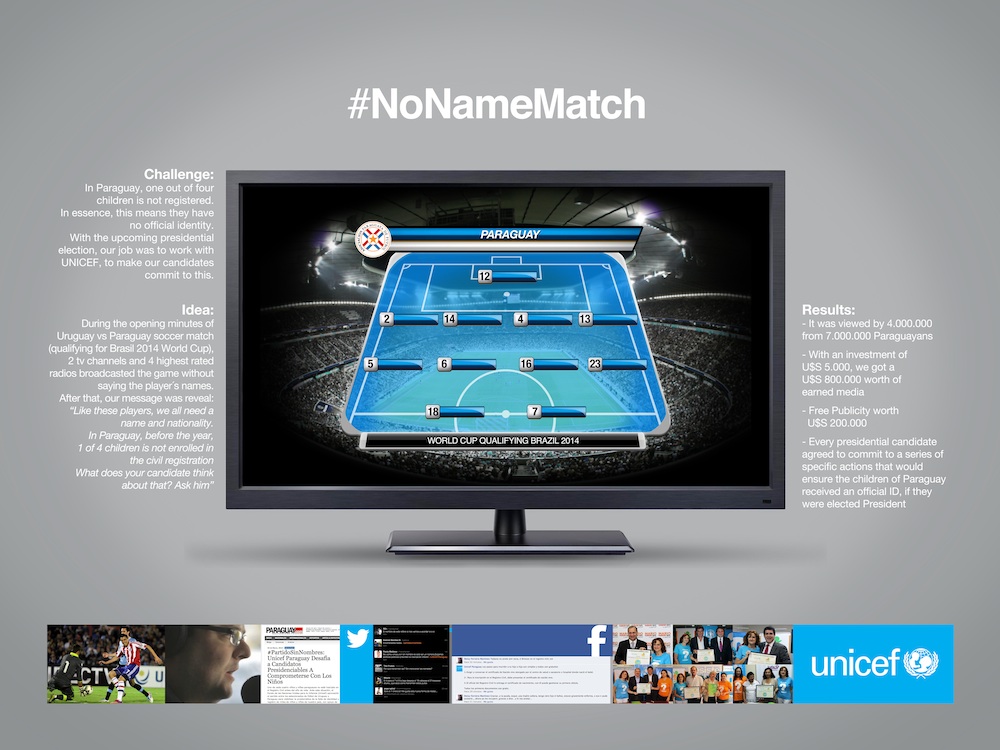 The agency came up with an idea of the cross-media promotion called "No name match," targeting, first of all, the country's politicians. During the opening minutes of the football match between Uruguay and Paraguay, which took place on March 22nd, 2013,  two popular TV channels and four highest-rated radio stations commented the game live without saying the names of the players. After that, a message composed by TWBA copywriters was read: "Like these players, we all need a name and nationality. In Paraguay, before the year, 1 of 4 children is not enrolled in the civil registration. What does your candidate think about that? Ask him." The strategy also included the involvement of celebrities who were asked to reply to this message using a hashtag #nonamematch.
As football is the most popular sporting activity and entertainment in Paraguay, the UNICEF's call was heard: a video by ONIRIA and TBWA was viewed by 4 million out of 7-m Paraguayan population. With an investment of $5,000, UNICEF got a $800,000 earned media and free publicity worth $200,000. Most importantly, UNICEF set an agreement with the presidential candidates to commit them to take necessary actions for children without birth certificates.