Diesel calls the global audience to participate in another revolution, now within the brand. Nicola Formichetti, a new artistic director of Diesel, has initiated a digital campaign called #dieselreboot, inviting consumers to contribute to the "full blown reinvention of one of the world's most iconic brands."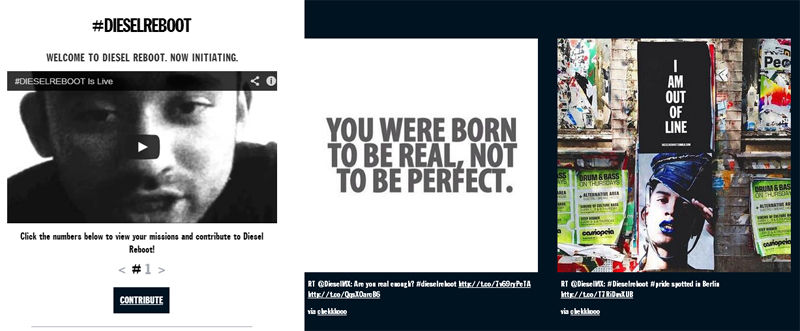 The program went live on a Tumblr page, which features video assignments and other visual content dedicated to the theme of creative refreshment. "With your help, we're hitting 'refresh' on Diesel's imagery and branding, reigniting the primary particles of its core DNA: freedom, creation, originality, and above all, bravery," states the brand. The brand is not likely to crowdsource any implementations from the public, instead it seeks for inspiration and ideas that can shake the ground and pave the way into a new era of "energy, bravery, and bold iconography" for the Diesel brand.
Currently, there're just the introductory spot and the first mission, published on June 10. Creative thinkers from around the globe are now encouraged to share images and videos of things and people that are inspiring them right now—turning the world upside-down and making their pulse race. Diesel fans can contribute by uploading the content or using the hashtag #dieselreboot on Twitter, Instagram, and Vine. Mr Formichetti asked the audience to check the space every day for the new assignments over the coming weeks.
As part of the new activation, Diesel is also releasing a series of striking posters highlighting the vital force of creativity and art of being yourself. In each of the imagery pieces, Diesel uses denim clothing in an offbeat way. A few Diesel posters also appeared in the streets of Stockholm, Berlin, Toronto, London and other world's largest cities in a traditional print outdoor ads version, and some of them were projected onto the walls of architectural objects across Italy (the landmarks included the Colosseum in Rome).