The latest report by Nielsen, Global AdView Pulse lite reveals that in the first quarter of 2013 advertising expenditure has been growing on the global scale, showing an increase of 1.9 percent ($76.6 billion) as compared to the same period in 2012.
Major highlights:
By region. While in the North America the ad spend has remained on the same level, Latin America experienced the biggest of all regions year-on-year increase of 11.9% for Q1. In Europe, vice versa, the ad spend continues to decline with a 4.4 percent decrease. In the Middle East & Africa, there has been a 2.9% increase in the ad spend, except Egypt where the index has declined by 20 percent. The Asia Pacific region has shown a 5.8 percent increase for Q1, with the overall increase of roughly 20 percent in China, Indonesia and Philippines.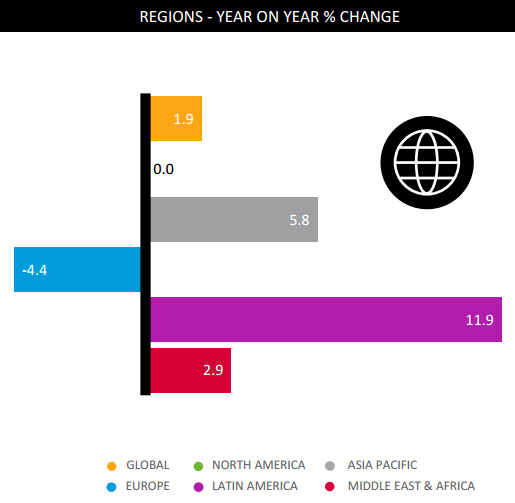 By media. The report shows that television has dominated with a 59% share in the structure of media investments, followed by printed newspapers (18.3%) and magazines (9.4%). Online advertising has shown an overall growth of 26.3%, with the biggest increase of 33.2% in the Asia Pacific and 48.2% in Latin America.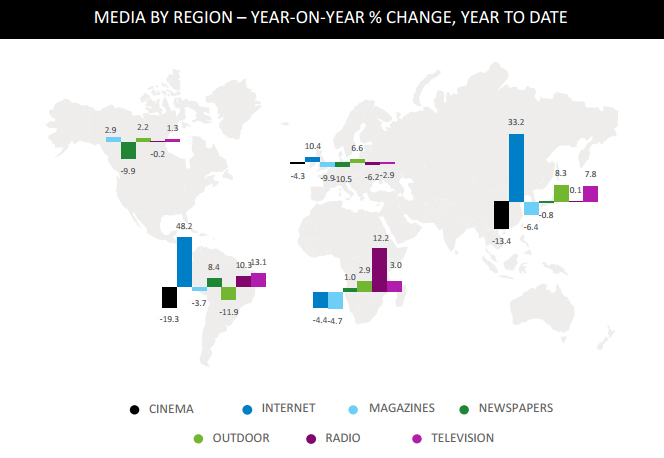 By market sectors. The Industry & Services companies have increased advertising for the first quarter by 8% year to date (YTD), of which the Financial and Automotive sector shown a decrease of 2.9 and 5.1 percent respectively.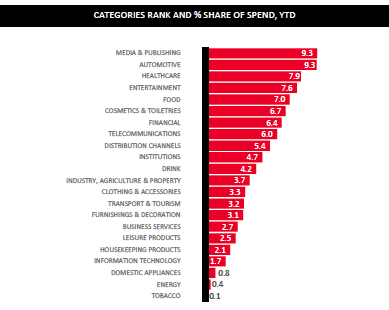 The list of Top 20 Global Spenders in the Q1, 2013 YTD

Procter & Gamble
Unilever
L'Oreal
Ford Motor Company
General Motors
Toyota Motor
AT&T
Volkswagen Group
McDonald's
Honda Motor

Microsoft
Nestle
Time Warner
Nissan
PepsiCo
MARS
Chrysler
Pfizer
The Coca Cola Company
Johnson & Johnson
Among other findings, Nielsen's report reveals that global consumer confidence has increased by 2 points from Q4 2012.
The full version of the report in PDF can be viewed here.