As part of its "Made of More" campaign, Guinness is on the lookout for filmmaking talents in Africa. The stout brand is encouraging creative minds from the continent to share their stories to create a TV advert, showing what Africa is made of.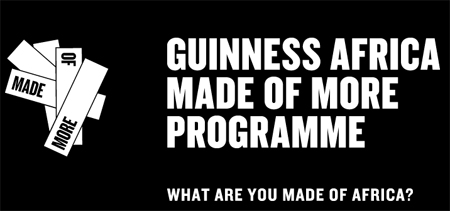 The winning entry will get a national and global recognition—Guinness will turn the video into a television commercial to run in the African countries and will also screen it at the Cannes Lions Festival of Creativity in 2014. The competition, piloted in the run up to Cannes Lions 2013, has been announced on the international Mofilm crowd-sourcing platform, but no brief with deadlines have been provided yet.
The competition comes to be just part of the "Guinness Africa Made of More" 12-month program, which will also encompass creative visions by fifteen filmmakers who picture their "own" Africa. These creative minds have been selected from several African countries, including Nigeria, South Africa, Ghana, Kenya and Tanzania, to inspire the participants in their work. Guinness has challenged them to bring to life what Made of More means to them. See the highlights of their works in the introductory video.
To support the participants, Guinness' parent company Diageo will be providing aspiring filmmakers with grants and bursaries to help them create a viable platform for film-makers to start their productions. Diageo will also provide mentoring, educational tools and inspiration to help participants unlock their creative potential and draw the most accurate portrait of the unknown modern Africa.
"We believe that Africa is at the forefront of creative innovation and that with this project we are simply providing a platform to showcase that. We want to establish this programme as an on-going initiative and believe that this Guinness project can actively help give African creativity and talent the global stage it deserves. I sincerely believe that we will be back in Cannes in 2014 with an award-winning film from Africa," commented Diageo Chief Marketing Officer, Andy Fennell.