ABSOLUT is backing the transformation of an abandoned trolley terminal in New York into the first world's subterranean park, the Lowline. The project, which has been partly funded through Kickstarter in early 2012, is now getting more support from the iconic alcohol brand that will be donating $1 from each sale of the new Absolut Lowline cocktail in participating bars.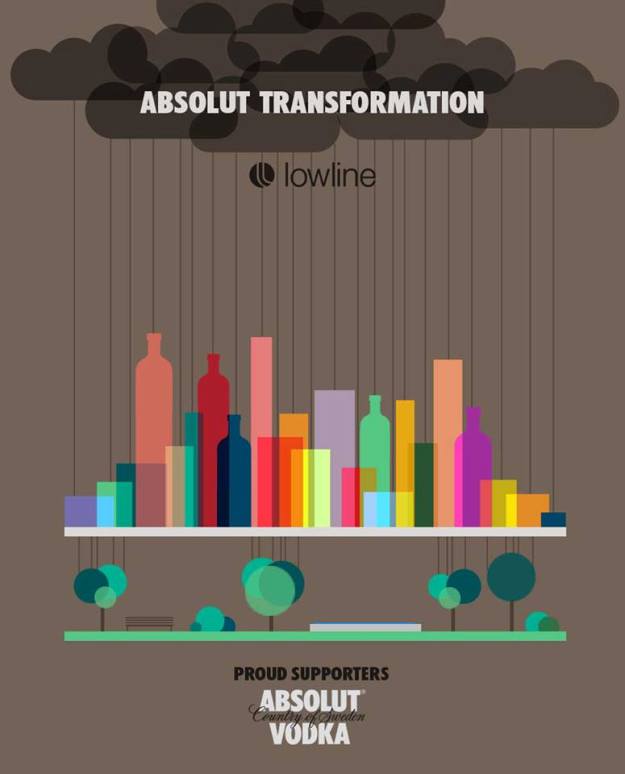 The Lowline project has already received much support from individual contributors, local supporters, Kickstarter backers and political endorsements. The "Absolut Lowline" campaign is launched to inspire a bigger involvement of the community. The project describes the collaboration with the brand as an "effort to empower individuals and small businesses" to get engaged into the unprecedented initiative. The brand has specially created the Absolut Lowline cocktail, which combines the perfect flavor with a pinch of charity—as much as $1 will be sent directly to the Lowline to support "ongoing design, advocacy, and research efforts and bring the Lowline closer to reality."
At the moment, the campaign is joined by three anchor establishments. Each of the venues is offering its own version of the drink. For instance, at 2nd Floor on Clinton one may savour the cocktail made of ABSOLUT VODKA, velvet falernum, beet juice, verjus, lemon juice, gum arabic, aromatic & decanter bitters, at Donnybrook the cocktail of ABSOLUT VODKA, fresh squeezed grapefruit juice, muddled basil, simple syrup is created, and at Hotel on Rivington they mix ABSOLUT Mandarin, grapefruit juice, lemon juice, simple syrup. ABSOLUT is encouraging Lower East Side local establishments to include their Absolut Lowline cocktails of different unique recipes into their menus.
"We are excited to offer a fresh new way to support the Lowline. Many of our neighbors have embraced our proposed idea of a new vibrant public space, and the "Absolut Lowline" program presents a great opportunity for many more to get involved—while also having fun and supporting local small businesses," commented Dan Barasch, Lowline Co-Founder and Executive Director.
Since 1980s, ABSOLUT has been collaborating with the NYC art personalities like Andy Warhol and Jay-Z as well as celebrating The Big Apple in the open air and within the brand's City series. Being a longtime supporter of NYC authentic culture, the brand now wants to contribute to a project that will live in the city for years and will mark a new level of its green evolution fueled by groundbreaking technology and personal commitment to do good. Watch the video below to find more about the enveavour and the innovative lighting technology that will allow the green park grow under the ground.