Adobe Creative Cloud is harnessing the power of the crowd to create a cover for the next dance music album DANCE RED, SAVE LIVES to be released as part of anti-AIDS initiative (RED). The tech brand is calling international design talents to submit their past works for a chance to collaborate with Futura, a renowned New-York based abstract art master.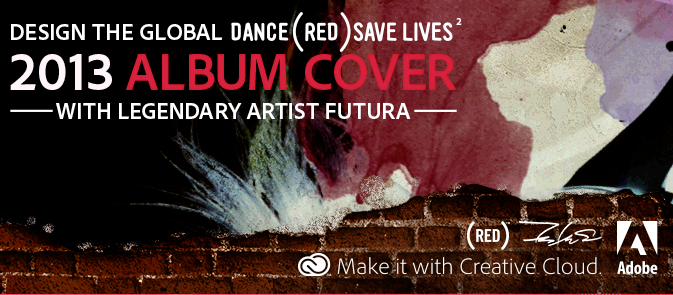 The DANCE RED, SAVE LIVES is one of the projects within the program of (RED), a philanthropic initiative that raises money to deliver an AIDS FREE GENERATION by 2015. Collaborations with celebrities, artists and brands help (RED) and the world reach the ambitious goal. Adobe is on the list of brands participating in the program. Through the new competition, the label wants to raise awareness of (RED), leverage the creative potential of its global community for a good cause, and provide one of the fans with a once-in-a-lifetime opportunity to work with a celebrated artist who partnered with Nike, A Bathing Ape, Henessey, Uniqlo, Levi's and more.
Participants, preferably from the Graphic Design, Illustration, and Digital Art creative fields, are invited to upload their past projects that best describe their creative style. The competition is open for people aged 18 (or the age of majority in their jurisdiction) from 20 countries including the UK, the USA, Canada, Germany, India, Singapore, India and Norway to name a few. The submission period runs from August 19 through September 13. The works will be judged by originality and general quality as well as the use of Adobe pro tools—Futura and representatives from Adobe and (RED) will select the best submissions.
The grand winner will receive a paid contract to develop the cover design and visual identity for the worldwide DANCE (RED), SAVE LIVES digital album, will get the Apple (PRODUCT)RED iPod nano and a pair of Beats by Dre (PRODUCT)RED Solo HD Heaphones, as well as professional supervision and support, worldwide exposure, and more. Ten runners up will also be awarded with prizes including branded merchandize from the (RED) festivals, a three-month subscription to Adobe Creative Cloud, and a digital download of the DANCE (RED), SAVE LIVES album among others.
(RED) constantly adds items to the (PRODUCT)RED range, launches fresh themed efforts and announces new collaborations. Read the blog of the philanthropic initiative to find more about it's recent activity.