Diet Coke has revealed the winning design of the second annual Diet Coke Young Designer Challenge, announced in the U.S. in mid-May. The participants were tasked to create a design for a limited-edition T-shirt that would capture Diet Coke's "Stay Extraordinary" ethos and mirror the style of the brand's ambassador Taylor Swift. The winning work by Brooklyn-based Julianna Bass features a modern, self-assured woman in "a dramatically flaring red skirt" and a stepped shirt, leaning on the Diet Coke logo, placed vertically.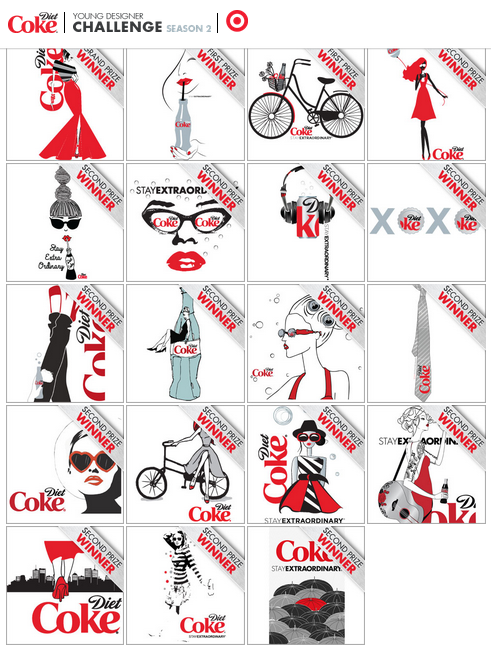 The eye-catching design has been selected from hundreds of works submitted from all across the country. In a public voting in July, Bass's design generated over 135,000 likes, which put it above all other entries. The choice of the panel of judges, led by acclaimed designer Rebecca Minkoff, synced with the public opinion. White T-shirts with the winning design will be available exclusively in Target stores starting September 1.
In addition to the national exposure, the grand winner will receive a $10,000 cash prize to develop her creative projects and a fly-away trip to meet Taylor Swift at one of the signer's final U.S. RED Tour stops in Nashville next month. On the contest's website, the grand winners and runners-up shared what inspired their creations. Here what Julianna tells: " The inspiration for my design was centered around trust. Who can you count on? Who can you lean on to be steadfast and supportive? Diet Coke? Why certainly. Men and women of all walks of life enjoy the delicious beverage every day. We can count on Diet Coke to make us feel and look great. It tastes divine. It's undoubtedly refreshing, oh so chic, and causes absolutely no caloric anxiety. We trust you, Diet Coke. We count on you. We lean on you. And you deliver every single time."
Diet Coke is offering its fans an opportunity to win a new fall wardrobe from Target. To do this, they are asked to pin how they would style the new T-shirt with other items—the contest is running from August 27 through September 2.