The idea of the special beer range for the over 60-year-old consumers dubbed Fahrenheit +60 by the Finnish contestant Tony Dianoff was recognised the best. The two other projects—Easy Star Bottle and Rood Ster Vintage —by Nathan Gabriele from the USA and Charles McGregor from Australia, respectively, secured the second and third places and a grant of $10,000 each.
In an attempt to sell better (or more?) to the specific consumer age group of over 60s, earlier this year, the largest European brewing company Heineken devised a crowdsourcing contest on its Ideas Brewery online platform that officially aimed "to enhance the drinking experience for the 60+ consumer."
About 150 innovators and designers from different countries have submitted their "enhancement" ideas that considered the consumer insights identified in a previous competition 60+ Generation. The list was then shortened to six finalists who developed their ideas into full concepts and pitched them to the panel of judges in the Heineken headquarters in Amsterdam in July 2013.
Three of them which were defined as those that considered the distinctive attitudes and needs of the target group in terms of packaging and taste in the best way—Tony Dianoff from Finland with the concept Fahrenheit +60, Nathan Gabriele from the USA with Easy Star Bottle, and  Charles McGregor from Australia who created Rood Ster Vintage—were named the winners and awarded with a $10,000 grant each.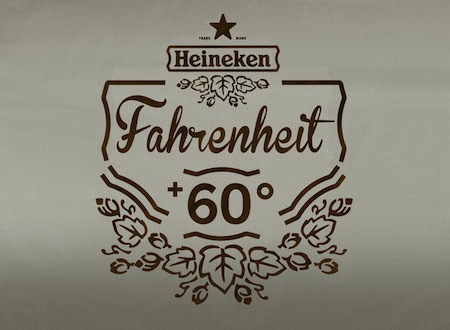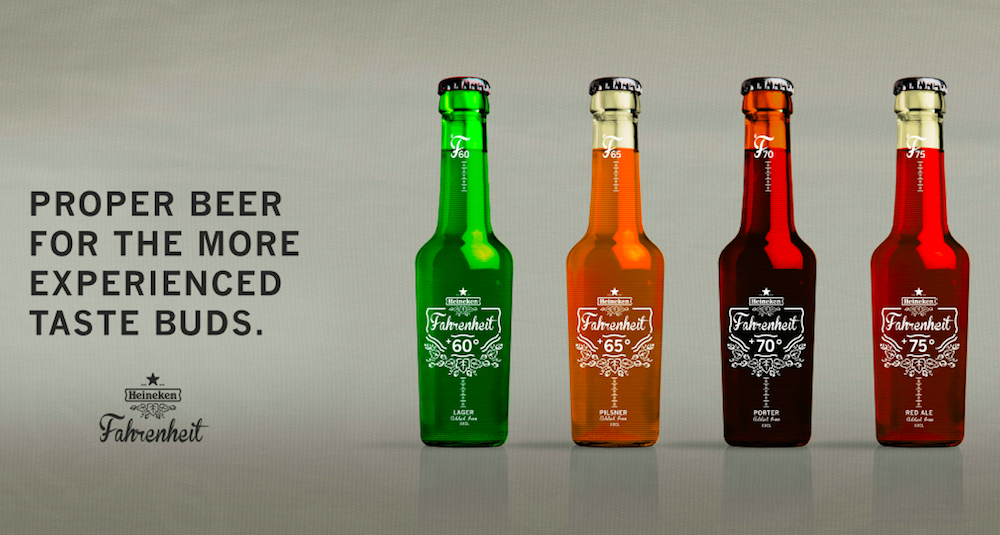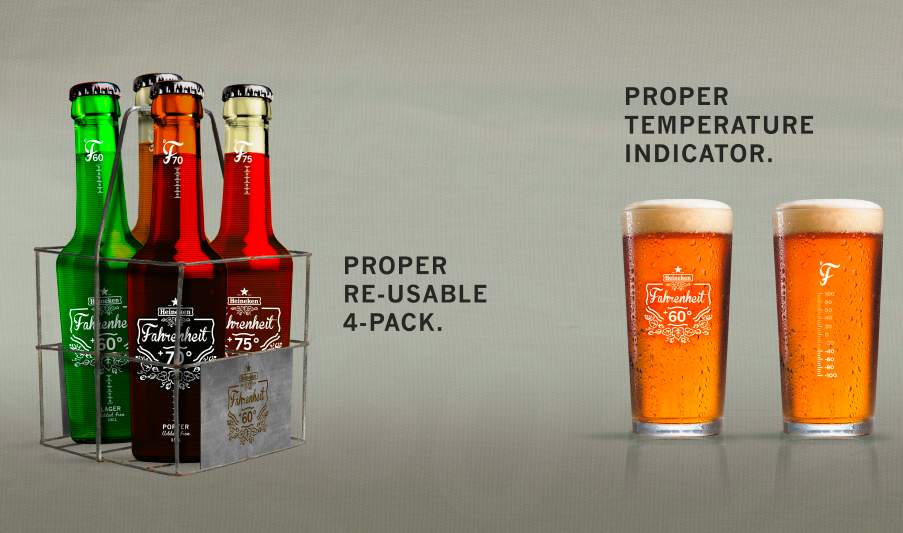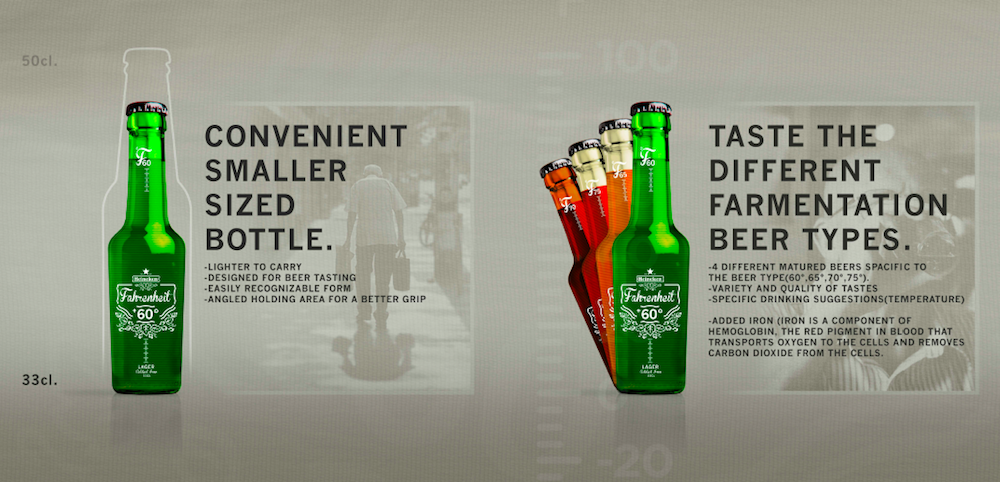 In terms of innovation, technical and commercial feasibility as well as presentation delivery, the concept by the Finnish Tony Dianoff was recognised the best. The author describes his idea as "a proper beer for the more experienced taste buds—Fahrenheit +60°." While each beer is supposed to be fermented at different temperatures—60, 65, 70, 75 °F—the respective number also indicates the target age group. The beers, the author suggests, should contain added iron, which is a component of blood pigment and is good for health of elderly people. The smaller 33 cl size and a convenient shape are designed to make the bottle lighter and the brand more recognisable on shelf.
Heineken hasn't stated yet whether Dianoff's or either of the two other winning concepts will be manufactured. All the entries can be viewed here.
While for many of us the necessity of a "special, enhanced drinking experience for the 60+ people" might be questionable, the latest research by the marketing insight agency Added Value has found that older people feel younger than ever and that being "old" now happens much later than it used to—hence, meeting their special needs may be crucial for some brands. The study, touchingly named 'The Unstoppables', shows that older people, especially of over 65s, don't feel their true age, with 41% saying they don't feel their age at all, 32% ignoring their age and focusing on their skills, 27% making older age look fun and stimulating.
Commenting on the values and needs of the Unstoppables (aka Baby Boomers, Silver Surfers etc.), Lee Manning-Craik, director at Added Value says: "Many in this older cohort are liberated from their family and social obligations for the first time, and have both the economic freedom and time to explore new hobbies and interests. It's why we refer to them as 'The Unstoppables' and it's why companies should sit up and take notice of their needs."