McDonald's is highlighting its products through a plethora of personal stories of UK consumers on the new destination 100 McDonald's Moments. The fun and playful site by Razorfish London and Goodboy Digital features a hundred of various feedbacks from real people who are telling how McDonald's has left its mark in their life experiences, from personal relationship to travelling abroad.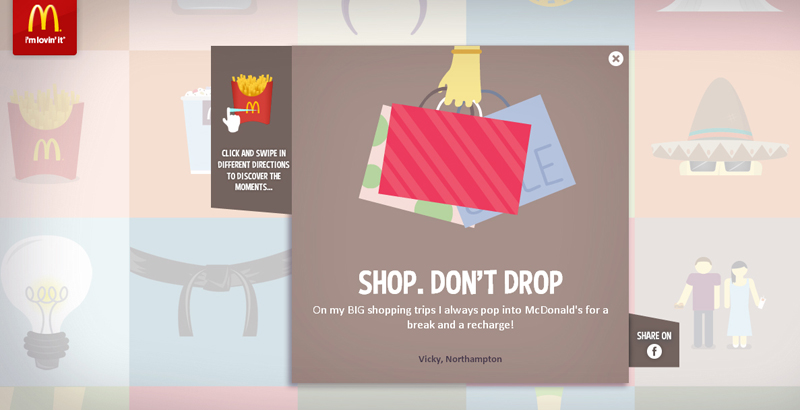 The highly interactive HTML 5 site is easy to navigate—visitors just click and swipe in different directions, opening animated shareable cards on the endless grid wall. Each of these digital square pieces features a picture, a short moment (in one or two sentences) from a real person, along with his or her name. The stories are sweet and simple, like "Popping in with my best friend and having yummy McDonald's Strawberry Milkshakes to help her get over her breakup" or "I once got stung by a jellyfish. A trip to McDonald's helped cheer me up." All of the moments celebrate ordinary but very special reasons why people keep coming back to McDonald's for years.
Potentially, each of these moments can inspire a movie to be created as part a filmmaking contest that is now rolled by the brand in Canada. McDonald's is encouraging its consumers to send in plots of max. 140 characters that tell a story about the menu "cast members," McNuggets, French Fries, Big Mac, McFlurry and McWrap. The tweet-like pitches about at least one of the five characters are to be submitted on Twitter using the #MakeMyFilm hashtag. The 12 winning stories will be turned into super short movies, presented by "Golden Arches Pictures," and uploaded the McDonald's Canada website. The grand prize winner and their friend will be invited for a private movie screening. Finalists will also be awarded with movie tickets. The competition is running from August 19 through September 6.