Metro, a free UK tabloid newspaper, is inviting the nation to share their urban experiences in a new campaign. As part of the promotion by Dare, the audience will be using hashtags #Metrohigh and #Metrolow to tweet their best and worst personal moments that "make or break" them in the city. The new urban cross-platform marketing initiative is launched to support the new strapline for the newspaper, "Metro. Made for the city."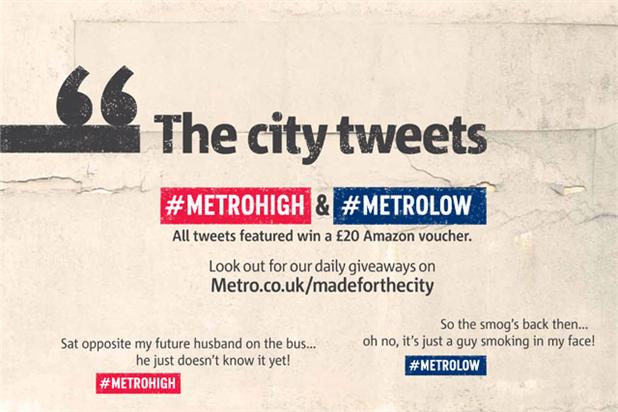 The periodical will be prompting the readers to visit its online page, where they can tell the nation about their positive and negative insights, highs and lows, into the everyday life of the cities. The best tweets describing happy and pessimistic moments will win a £20 Amazon voucher. In addition to getting a cross-country exposure, users can win a prize. They are invited to enter their personal details in the special Facebook app for a change to receive one of a bunch of daily prizes, including unforgettable experiences, tickets and trips.
"Since Metro launched, we've been committed to helping our busy, on-the-move urbanite audience maximise their downtime and get more from city life. This campaign focuses on celebrating the city highs that attract our readers to urban living, and overcoming the lows, in a social, entertaining and highly engaging way that truly resonates with them," commented Bryan Scott, the marketing communications director at Metro.
The campaign will be rolling out for four weeks through digital, print and outdoor across London's overground stations.
Metro's campaign taps into the growing trend that sees citizens themselves, not copywriters, painting the most accurate picture of the cities. While publications like Louis Vuitton's City Guide books might live through for decades as valuable assets for travelers, such user-generated content comes as a trustworthy source of first-hand insights. In spring 2013, MasterCard launched a digital platform, Pulse of Sydney, to capture the most trending topics in the city, in real life. In July 2012, Virgin Atlantic launched a city guide for London, featuring best in town must-see and must-do spots and British celebrities' top places of interest.